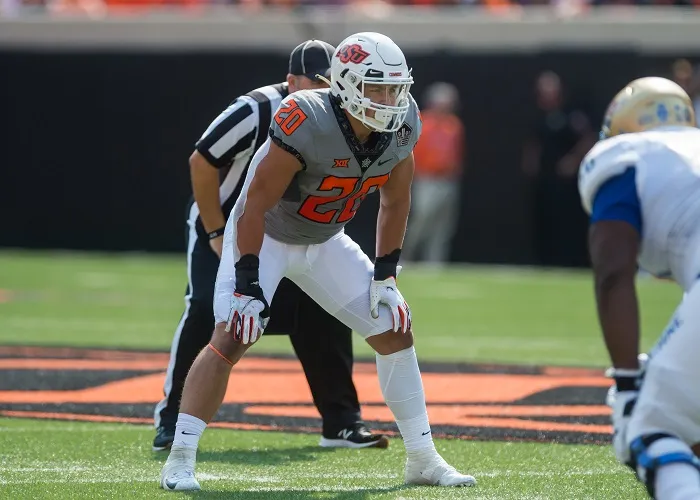 Former Oklahoma State linebacker Malcolm Rodriguez was a star for the Cowboys, but fell to the sixth round in this year's NFL Draft.
The Detroit Lions, as we wrote at the time, got one of the Top 5 Big 12 steals in the NFL Draft. And after one NFL play, that certainly looks like it's already the case.
The Lions were playing the Falcons in their preseason opener and on the opening kick off, Rodriguez make a huge, picture-perfect tackle that has gone viral.
Take a look.
And as you can hear the announcers say, "The coaches told us about #44, that he would be a big impact player. He's a rookie. And he looks good early."
The color commentator adds, "The way they gushed about this man all throughout camp. Look at the finish and driving the legs into the ground. This is a big part of the way he's going to make this football team."
As we wrote about Rodriguez after he fell to the sixth round:
The former Oklahoma State linebacker got hit by NFL front offices because the former safety is a bit undersized for the position at 6′ and 230 lbs, but anyone who watched the Big 12 in recent seasons know that Rodriguez has great instincts, top-end speed and takes excellent angles. He finished sixth in the nation in 2021 with 76 solo tackles, including 15 for loss with 10 quarterback hurries, four forced fumbles, two recoveries, two sacks and one interception. Oh, and the linebacker was the leader and heart of soul of one of the top defenses in the country, voted captain by his teammates each of the past two seasons.
It looks like the Lions are going to quickly learn the steal that they got in Malcolm Rodriguez.
If you want to place a bet on the Lions or any NFL game this season, be sure to check out Same Game Parlay for all your betting needs.