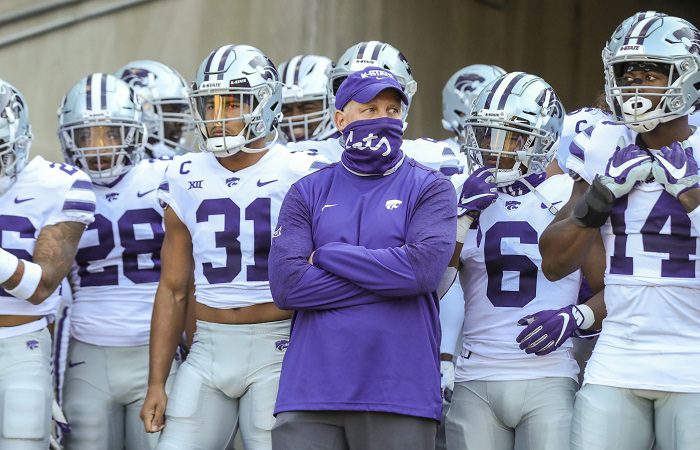 After the 2021 regular season, Kansas State decided to make a change at offensive coordinator, sending Courtney Messingham out the door in lieu of promoting quarterbacks coach Collin Klein.
Messingham was with Kansas State for three seasons and followed head coach Chris Klieman over from North Dakota State, where he called plays for the Bison in 2017-18.
While under his command in 2021, the K-State offense ranked ninth in the Big 12 in total offense, just ahead of Kansas, and was 101st in the nation. The Wildcats were also ninth in the Big 12 and 81st nationally in scoring offense, only mustering 26.3 points per game.
That type of production had the K-State fan base calling for change, and Messingham ultimately lost his job for it, but a pair of anonymous Big 12 coaches didn't seem to understand why the Cats parted ways with their former OC.
In Athlon Sports' annual "anonymous coaches" commentary, a couple of coaches spoke freely about their thoughts on the move.
"I don't know why they got away from the OC [Courtney Messingham]; the scheme didn't really seem like a problem. That's a move that surprised a lot of people because they were really close."
Another coach credits K-State for their stability, but didn't understand them letting go Messingham either.
"They've evolved into a consistent seven- or eight-win team that looks exactly like a seven- or eight-win team. That's a credit to their staff for the stability, but they're never going to blow you away. Chris [Klieman] has done a good job overall. We aren't sure why they made some of the staffing changes they did; everything seems to be functional looking from the outside and from what we hear."
In one game under Collin Klein, the Wildcats offense exploded for 42 points, 442 yards, and 22 first downs in a 42-20 victory over LSU in the Texas Bowl. Now, Klein will need his unit to continue that success in 2022 to prove that Klieman made the right call after all.