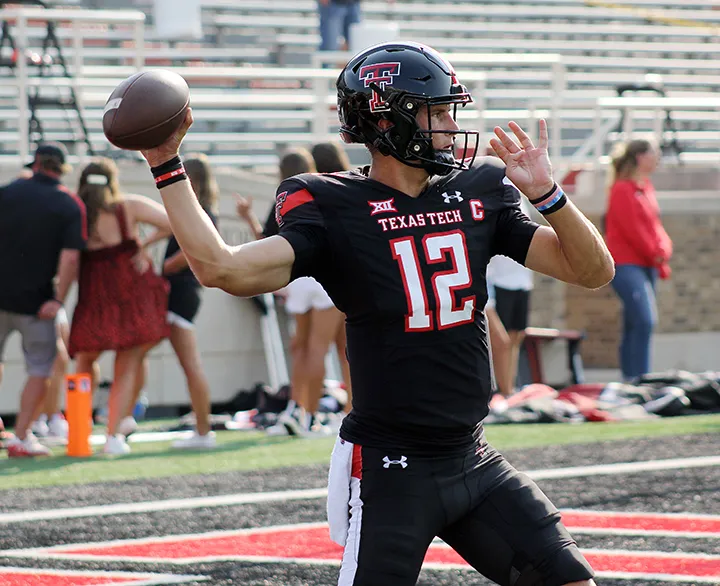 Across decades Texas Tech has earned a reputation for a lethal air raid offense, and elite QB play. But over the past few years that's gone out the window, ever since Patrick Mahomes left the QB position has become injury-plagued, and it's been tough to find a steady starter. The last time a Tech QB stayed healthy was 2017 when Nic Shimonek was even benched for the final game, before leading a comeback in Austin. In the past three seasons that air raid offense has gone out the window, especially when David Yost was the OC. One common misconception about Tech has that they struggled because of their defense, under Kliff that was true. But aside from a few games last year the defense played well, and returns a lot in the secondary, and up front.
The question for Texas Tech fans is going to be how will the offense look? With three QBs competing for the starting job, and Zach Kittley as the new OC there's good reason to believe that lethal passing game could be back. But with only one returning receiver with only 200 yards last season, and possibly the best running back duo in the Big 12 in Sarodorick Thompson and Tahj Brooks there's reason to believe this could be a fairly balanced attack.
Quarterbacks
While many, myself included, expect this to be Tyler Shough's job, both Donovan Smith and Behren Morton have done their parts to make this a true three-man battle. This is the deepest Texas Tech QB room in recent memory, and the most confident I've felt in this position for Tech since 2016 when Mahomes was the starter, and Shimonek was a capable backup.
Shough is a pro-style QB with mobility and athleticism, he was 2-2 as a starter last season, including a win over Houston, but has a pick-six problem throwing two in four starts, and another in the Spring Game. Donovan Smith certainly isn't a prototypical passer, he's a dual threat, and big at that. He went 2-2 in four starts, all coming as underdogs, and nearly knocked off Baylor. His passing excelled in the second half against Miss State, and his footwork got much much better as his time as the starter wore on. Behren Morton is seen as the obvious No. 3 but I'd fight back on that, he may be the most Zach Kittley-Esque QB. He's a certified gunslinger, and put up over 90 points in high school at Eastland against Panhandle, he also had a good spring camp and looked the best in the spring game. He's been a Tech fan his whole life, from West Texas, and if/when he gets the reins at Texas Tech, he'll be an instant fan favorite.
Whoever wins this QB battle may get the opportunity of a lifetime, and could be the most productive passer in the Big 12. Under Zach Kittley last season Bailey Zappe only threw for less than 325 yards once, and threw for over 400 on eight different occasions. While the run game will be implemented more under Kittley this season, that could loosen the secondary up, and give plentiful opportunities for the QB to shine. While Tech fans will hope for a healthy season at the position, there's no doubt that if one goes down, two capable backups will be waiting for the opportunity.
Running Backs
This may be the strength of the Texas Tech offense, in the Liberty Bowl against a "sacred" SEC defense Texas Tech ran all over Miss State, going for 260 yards on 44 attempts. Tahj Brooks went for 107 yards and a TD on 16 carries, and Thompson would go for 80 yards, and a TD on 14 carries, both well over the standard benchmark of five yards a carry. The problem last season is neither were healthy at the same time, but in the bowl game when both were Miss State was torched all night long and simply didn't have an answer. The bad news for the Big 12 is both of these guys will be back, and they'll certainly be a 1a, and 1b, bringing different things to the table. When you look at the depth chart Cam'ron Valdez the four-star recruit will be sitting there waiting for his chance. While Zach Kittley made his money in the air raid at both Houston Baptist and Western Kentucky, he'll certainly find a way to get the running backs involved. With his passing schemes, expect that to loosen up the defense, for this running back room to excel.
Tight Ends
Another position group Tech's strong in is at tight end. While losing Travis Koontz is a blow, sophomore Mason Tharp looks primed to take over where he left off. He's 6'9 250 and looks to be a dependable target in the Red Zone, as a true Freshman, and the No. 3 last season he put up over 30 yards in four games and is a safe bet to develop even further. But he will by no means be alone, former four-star and Texas A&M transfer Baylor Cupp joins the fold. He's 6'7, 253, and was forced out of the rotation at A&M due to injury problems, which with A&M's recent form makes it tough to regain that starting spot. People around the program have talked about his mobility, and if he could stay healthy Texas Tech should have a lethal one-two punch at this position. Further down on the depth chart is Henry Teeter, who provides good depth here as a senior, the smallest of this bunch at 6'5 240, he adds more size, and you could expect him to be used in goal line situations. Overall, Red Raider fans should feel confident in this group, and it'll be fun to watch how Zach Kittley uses them close to the goal line.
Wide Receivers
Returning just one receiver who totaled over 200 yards last season, isn't ever what you want, but the man that they are returning is Myles Price. The No. 1 slot receiver looks cemented with Price, he had over 500 yards last season, and could find even more opportunities this year. Behind him is running back convert, Xavier White, and local kid Nehemiah Martinez who's currently having a very good fall camp. While there's question marks around the outside receiver positions, this slot position has a star, and a wealth of depth around it.
Now for the question marks: the outside positions. Erik Ezukanma and Kaylon Geiger are gone, but they did leave a crop of talented receivers behind them. JJ Sparkman should be first on this list, he made a great TD grab in the Bowl game last season and is an easy choice to have a breakout season this year. The other projected starter Loic Fouonji, also is an interesting prospect, despite having his season cut short, he showed a lot in the early parts totaling 50 yards at Texas, and 78 at West Virginia. When asked about Fouonji, Joey McGuire replied "Man, I'm fired up. I'm really excited…you gotta almost think of him like a transfer 'cause you didn't see him in the spring and all of a sudden, you see him in the summer…and man, he's a monster." credit to Mathew Connor at Wreck'em Red for that quote.
A common theme with this Texas Tech offense that sticks out is depth, and that won't be a problem here, the two projected backups are Trey Cleveland and Jerrand Bradley. Both have also been spoken about as potential breakout players this season, and teammates have already raved about Bradley's work ethic. Bradley may be my sleeper pick to be top two in receiving this year for the Red Raiders, he's currently a redshirt freshman only appearing in four games last season, but did tally a whopping 99 yards against Miss State in the Liberty Bowl, and has all the intangibles to be one of the next Texas Tech receivers to cash checks in the NFL. If there's a Texas Tech player catching a pass other than Myles Price, it's a safe bet to say they have height, all four of the previously mentioned outside receivers are at least 6'4. Further down on the depth chart is another interesting prospect in Minnesota transfer Brady Boyd, a former high school teammate of Texas QB Quinn Ewers.
Sidenote: credit to a forum user "Southlake weed man" who first broke the story about Boyd and Ewers coming to Lubbock in a package deal. Well, he was half right, Brady Boyd is the smallest at a "measly" 6'1, he has speed, and could factor in with stretching the defense with his deep route abilities.
Now for people concerned with so many question marks, there's two words to make them confident. Emmett Jones. He's back as the WR coach in Lubbock, and has an incredible track record, he can be widely credited with Antoine Wesley's breakout season in 2018. If you want to know other receiver's he's coached in his 3 year stint at WR coach from 2016-2018, Cameron Batson, Dylan Cantrell, Keke Coutee, T.J. Vasher, Derrick Willies, and Erik Ezukanma, all NFLers. Add in he also worked with Jakeem Grant, there's no reason he can't take this deep talented crop to their potential, and a potential we may not know yet.
Offensive Line
Now we get into the trouble area for Texas Tech, the line was bad last year. So what does a new coach do nowadays when he sees a weak position group? He hits the portal of course, and that's just what McGuire did. Now losing Dawson Deaton certainly hurts, he was one of the only reliable guys last season. First coming from WKU with Kittley, and all first team is Cole Spencer, who's penciled in to start at left guard, if you can be First-Team All-CUSA, odds are you can get into most Big 12 starting lineups. A returning starter at left tackle will likely be junior Caleb Rogers who can make a big leap from last season. Another returner is Weston Wright, who's now a senior and was a regular starter the last couple years, and is expected to stay at right guard, a lot of Tech's success will depend on Rogers, and Wright improving. But at right tackle there's a new man on campus in Monroe Mills who transferred from Oklahoma State in search of playing time, and should be a very good addition to the Tech O-line.
The big question mark will be how do you replace Dawson Deaton at center, there's currently two men fighting for the job. The favorite is likely Cade Briggs, who was a three year starter for New Mexico, and garnered some votes for all Mountain West last season. The second newcomer for the position is Dennis Wilburn, who's a JUCO transfer from Texas A&M-Kingsville. Depth will be plentiful again on the o-line with Landon Peterson, Ty Buchanan, Michael Shanahan, Sheridan Wilson, and Ethan Carde, all as potential options. A key addition is at the coaching position coming from WKU, and a former Red Raider player Stephen Hamby, who should add a much needed element of nastiness to this group.
The Season
This is a deep group, at just about every position for Texas Tech, now there are some concerns, Zach Kittley's offense is certainly complicated, and takes time to implement. Texas Tech will benefit from starting with Murray State, but how quickly these guys catch on will be key. I'd expect a pass heavy offense, compared to recent seasons, but with much more reliance on the running game than the Kingsbury era. They'll be tested early and often, looking at the schedule there feels like two wins, and 10 games varying from upset potential to should win games. The offense will likely be the key between a 4-8 season or an 8-4 one.