Baylor Bears
Baylor Football 2022: Best-Case vs. Worst-Case Scenario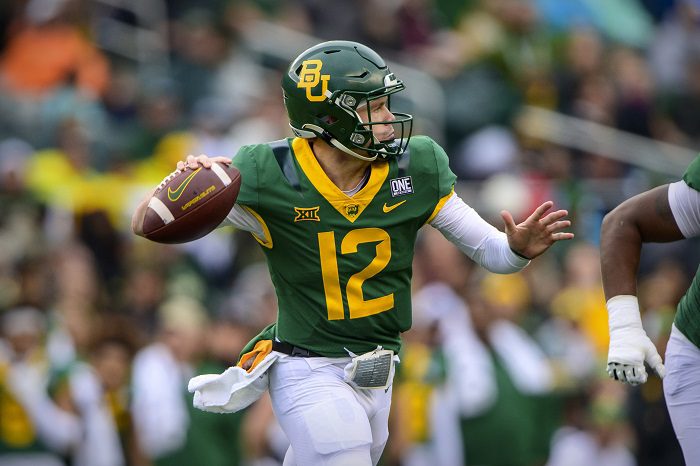 The Baylor Bears come into the 2022 season with exceptionally high expectations after winning the Big 12 Championship in 2021 and subsequently taking down the Ole Miss Rebels to hoist the Sugar Bowl Trophy as well.
Now, with Gerry Bohanon out and Blake Shapen in at quarterback the Bears are hopeful that the air attack can take another step while maintain a strong running game offensively behind an experienced offensive line. Defensively, Baylor returns the entire defensive front from last year while adding Tulsa transfer Jaxon Player to the mix.
With expectations at an all-time high and Dave Aranda quickly becoming one of the top names in college football, what can we expect from the Bears in 2022? Here's the best-case, worst-case and most-likely scenarios for Baylor in 2022.
Best-Case Scenario
Blake Shapen steps into the role of starting quarterback and immediately elevates the Bears' passing game. The running game remains strong behind a Top-Five offensive line, and a new found vertical passing game gives BU a new dimension on offense that it. New names emerge at the skill positions and Baylor's defense remains formidable despite losing several key players in the back end. Baylor gets through the regular season unscathed and wins a Big 12 Championship for the second year in a row, but this time it earns them a spot in the College Football Playoff.
Record: 12-0
Worst-Case Scenario
Blake Shapen is not prepared to lead the Bears in difficult situations and crumbles under the pressure without the leadership of Bohanon there to back him up. While strong on the offensive and defensive lines, Baylor struggles to find playmakers at the skill positions and production on the offensive side of the ball squanders. Defensively, Baylor's secondary becomes an attacking point for opponents and inexperience in the backend leads to inconsistent play. Baylor drops games on the road in Provo and Norman, and loses to Oklahoma State and K-State at home and misses out on the Big 12 Championship game.
Record: 8-4
Most-Likely Scenario
Blake Shapen embraces the role of starting quarterback and, despite some growing pains around him, elevates the play of those around him. While the running attack isn't what it was in 2021, Baylor's passing attack is improved and does enough to keep them one step ahead in most games. Aranda's defensive scheme proves to be plug-and-play and the Bears remain one of the top defenses in the Big 12. While they drop a couple of games along the way, the Bears find their way back to Arlington and secure back-to-back 10 win seasons for the first time since 2014-15.
Record: 10-2