Baylor Bears
Iowa State Football 2022: Best-Case vs. Worst-Case Scenario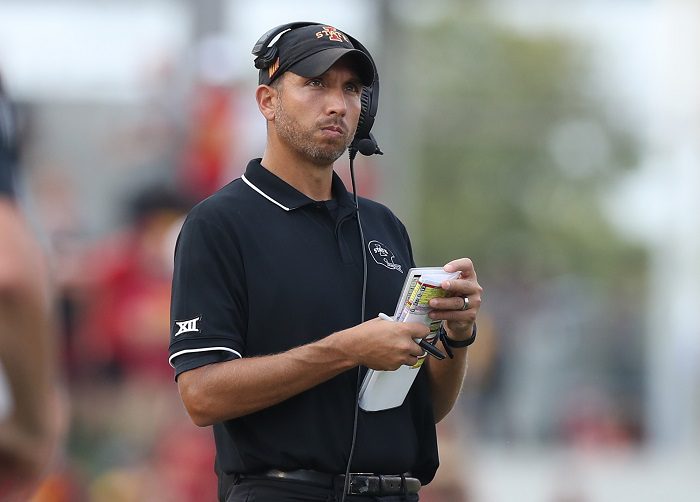 Iowa State is coming into the 2022 season in a familiar position of flying under the radar after a disappointing year in 2021. The Cyclones entered the year ranked in the Top 10 but finished with a 7-6 record and a loss to Clemson in the Cheez-It Bowl.
Hunter Dekkers takes over at quarterback as Brock Purdy is now a San Francisco 49er while Jirehl Brock is tasked with replacing Breece Hall. Xavier Hutchinson leads the offensive returners, while Jon Heacock's defense should be stout yet again behind DE Will McDonald IV.
Head coach Matt Campbell has done his best work as an underdog and 2022 is a perfect example of the Cyclones being just that, but what can we expect from his squad after a lost season a year ago? Here's the best-case, worst-case and most-likely scenarios for Iowa State in 2022.
Best-Case Scenario
Hunter Dekkers not only takes the reins at quarterback, but he takes the passing game up a notch with better arm talent than his predecessor. Jirehl Brock and Xavier Hutchinson create an offensive duo that gives opponents fits and scores enough points to give the defense room to be aggressive. Will McDonald IV has another All-American type year and Iowa State's defense picks up where it left off with eight new starters. Campbell's five star culture pays off with an overachieving regular season and a chance at double-digit wins in the bowl game.
Record: 9-3
Worst-Case Scenario
Eight new starters on defense fail to pick up the slack and the leadership of last year's senior is sorely missed. The Hunter Dekkers that we saw against Iowa last year is not what we get in 2022 and the Iowa State offense is lethargic without Breece Hall to hand the ball off to. Matt Campbell's squad suffers from so many new faces with just eight starters returning and the growing pains never really subside as the Cyclones fail to make a bowl game for just the second time in Campbell's tenure.
Record: 5-7
Most-Likely Scenario
While Hunter Dekkers shows some signs of inexperience, he proves to elevate the ceiling of the offense when at his best and is a promising piece for ISU going forward. Xavier Hutchinson proves to be one of the better wideouts in the Big 12 and helps the running game by stretching the field. Jon Heacock's defense shows some growing pains, but comes up big when Iowa State needs it to, just as in year's past. Matt Campbell continues the longest bowl streak in Iowa State history as the Cyclones head to their sixth-straight bowl game.
Record: 7-5