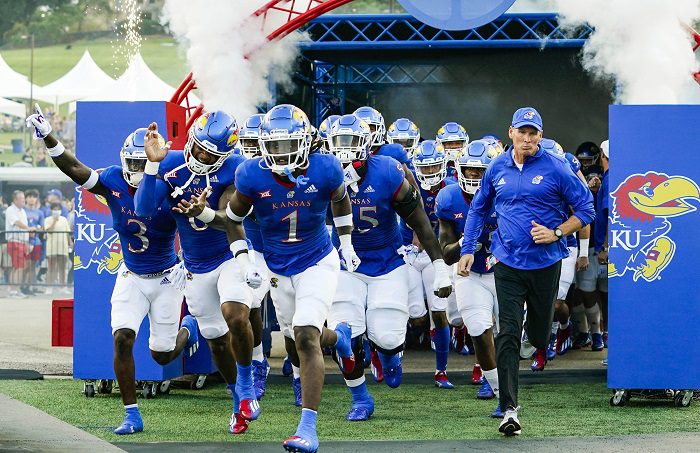 Kansas football is in quite a unique position going into 2022 as the Jayhawks are coming off a 2-10 season but have some reasons for optimism. KU ended a 13-year streak without a road win in Big 12 play with a win over Texas in Austin last November.
The Jayhawks followed that victory with two extremely competitive games against West Virginia and TCU, and while they lost, it appeared that Kansas had figured out how to keep itself in games.
Now, expectations are a bit higher in Lawrence than usual but what can we truly expect from Lance Leipold's team this season? Here's the best-case, worst-case and most-likely scenarios for Kansas in 2022.
Best-Case Scenario
Jalon Daniels and Devin Neal become one of the most dynamic duos in the Big 12 and give Kansas something it has lacked in previous years: a viable offense. Transfers at several key positions elevate the play of those around them and suddenly Kansas is no longer the pushover it has been for a decade. Kenny Logan Jr. leads an opportunistic defense that is much improved from last season, and while not one of the best in the conference, the unit is good enough to give the offense opportunities to score. Kansas gets to four wins for the first time since 2009 and sets themselves up for a bowl run in 2023.
Record: 5-7
Worst-Case Scenario
The preseason "hype" around Lance Leipold's group falls short and the Jayhawks take a step back from the end of last season. Jalon Daniels makes costly errors at the quarterback position and an experienced offensive line flounders the opportunity to be sneaky good. Despite the incoming transfers, KU's defense makes little to no improvement and remains one of the worst in college football. The Jayhawks get swept in conference play for the sixth time since 2010 and manages only one win all season: the opener against Tennessee Tech.
Record: 1-11
Most-Likely Scenario
The Kansas Jayhawks build off of a promising end to last season, but still take plenty of lumps along the way. Lance Leipold's culture shines through on the field, and KU goes 2-1 in nonconference play. Then, to take another step forward, the Jayhawks find a way to get two conference wins, something they haven't done since 2008. Lawrence, Kansas might not have a bowl game to celebrate in 2022, but it will certainly be on their minds for 2023 as KU finally has a foothold on getting out of the hole they've been in for 14 years.
Record: 4-8