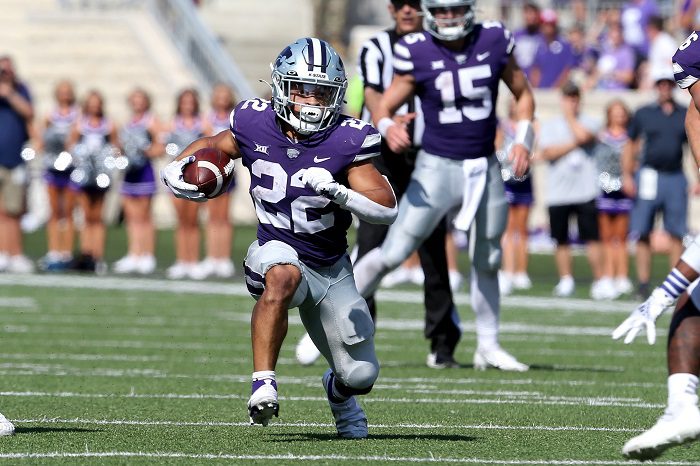 Chris Klieman and the Kansas State Wildcats come into the 2022 season with the highest expectations to date in his tenure, and for good reason.
Kleiman has assembled a roster with arguably the best offensive player and defensive player in the Big 12 coming into the year with RB Deuce Vaughn and DE Felix Anudike-Uzomah ready to lead the "Dark Horse" Wildcats into uncharted waters.
With such high expectations and new faces in key positions, what can we expect from K-State this season? Here's the best-case, worst-case, and most-likely scenario for Kansas State in 2022.
Best-Case Scenario
Quarterback Adrian Martinez comes into Manhattan and the change of scenery does wonders for him on the field. The athletic ability, combined with a new found protection of the football gives K-State the thunder to Deuce Vaughn's lightning that their offense has needed. With weapons in the passing game and a good offensive line, K-State puts points on the board like it did against LSU in the Texas Bowl, and the defense remains stingy as it has been in years' past. K-State fights its way into the Top-10 and finds itself in the Big 12 Championship game in December.
Record: 10-2
Worst-Case Scenario
While he changed the scenery around him, Adrian Martinez's turnover struggles continue, leaving K-State's defense to defend short fields in nearly every game. Deuce Vaughn carries the offense on his own and the defense is inconsistent behind an above-average defensive line. Despite having some of the top talent in the league, the Wildcats squander opportunities to take down the top teams in the conference and drop a couple of road games that they shouldn't to Iowa State and West Virginia and have a disappointing season on their hands.
Record: 7-5
Most-Likely Scenario
Collin Klien and Adrian Martinez take a bit to get on the same page, but improved protection of the ball and better athletes around him than at Nebraska leads to a career-year for Martinez. Deuce Vaughn has another All-American year and Felix Anudike-Uzomah and Khalid Duke combine to make one of the best pass rushing duos in the conference. Kansas State falls just short of the Big 12 Championship, but not by much, and has a chance to see double-digit wins with a bowl victory.
Record: 9-3