Oklahoma Sooners
Mike Gundy: Oklahoma, Texas 'Took A Lot of History' from Big 12, College Football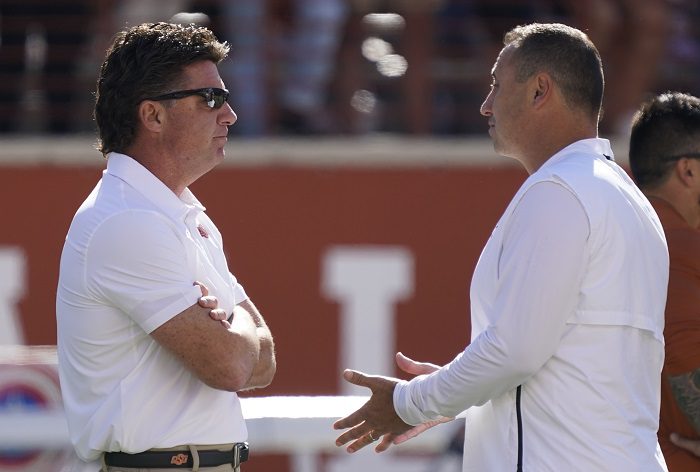 Oklahoma State head coach Mike Gundy has been anything but bashful when it comes to sharing his thoughts about Oklahoma and Texas leaving the Big 12 for the SEC.
At Big 12 Media Days, he took a jab at his in-state rivals, saying that Bedlam "has a year or two left" and that is because of "someone else's decision."
On Tuesday, Gundy again opened up about his feelings towards Oklahoma and Texas leaving for the SEC, saying that the two schools "took the money and ran," according to ESPN's Chris Low.
"Let's just cut to the chase. They made a choice to financially secure their athletic departments for the next 12 to 15 years," Gundy told ESPN. "People can talk about all the reasons, but that's why they did it, all for the money, and took a lot of history out of this league and a lot of history out of college football with them.
"Now, they're not the first ones to do it. Texas A&M did the same thing when they jumped ship to the SEC [in 2012]."
Gundy also reiterated that Bedlam was nearing its end and gave more reasons as to why it just isn't a viable option going forward.
"They sort of made that decision when they left for the SEC," Gundy said. "It's just not going to be feasible. We're scheduled out to 2036, I think, and I'm sure the SEC is going to nine conference games. They'll have to, or the media will kill them. The fans would love to keep playing [Bedlam], but the people behind the doors who make the decisions are going to say, 'No.'
"That's what you lose, some great rivalries and a lot of history."
While I can't blame him for lobbying so hard for the series to be over, its far from being a done deal. When media rights come up for the Big 12, the Bedlam Series will certainly be one of the top cards in play for negotiations, and if Oklahoma is willing to play ball, the Bedlam game would certainly keep going.
The Bedlam Series is the only knock against Mike Gundy in his illustrious career at Oklahoma State. In 18 tries, Gundy has managed just three victories over the Sooners. When Oklahoma is out of his signature "Arkansas Waterfall "hair, Gundy will be the king of the Big 12.
We won't know for sure, but if these are the last couple of Bedlam's that we get, they'd better be good ones.