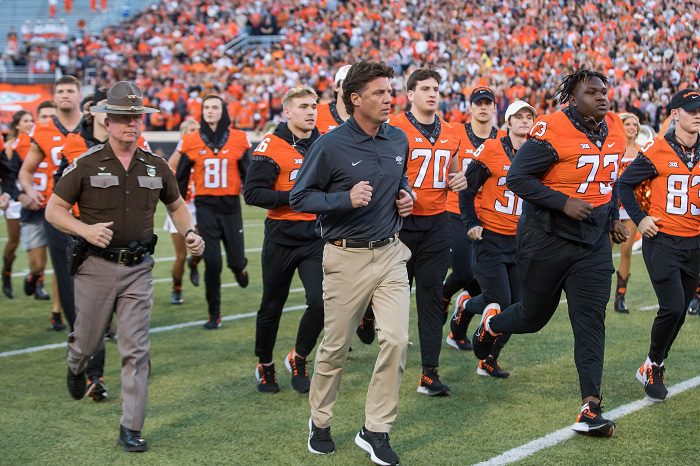 Just two weeks from Thursday, Oklahoma State will open its 2022-23 season by welcoming Central Michigan to Boone Pickens Stadium on September 1 at 6:00 P.M. CT on FS1.
To predict how OSU might perform against the Chippewas aside from the X's and O's, let's take a look at how the Cowboys fare historically in season openers since Mike Gundy took over the program in 2005.
Since becoming head coach 18 years ago, Mike Gundy-led teams currently have a record of 16-2 in season opening games. This is to be expected when typically, early season matches are filled up by cupcake teams in order to ease a team into the schedule rather than dive right into the tough games with a new squad and oftentimes new staff.
Still, it's not like the Cowboys have just coasted along by playing FCS teams every season. OSU faced a Power 5 school in seven of those 18 games, going 5-2 with losses to only No. 1 Florida State in 2014 and No. 13 Georgia in 2007. They beat Washington State twice in 2008 and 2010, Georgia in 2009, Mississippi State in 2013 and Oregon State in 2019.
Oklahoma State averages 38.4 points in season openers during that span, with the average margin of victory being 27.3 points. It's possible that average is helped out by the Pokes' 84-0 walloping of Savannah State in 2012, but OSU has consistently put up impressive numbers in openers.
The golden goose of those opening wins, besides Savannah State, was when the Cowboys defeated thirteenth-ranked Georgia, 24-10, to kick off the 2009 season, and although it ended in a loss, the 2014 game in Dallas against reigning national champions Florida State was an impressive showing for OSU, just losing by six points to the Jameis Winston-led Seminoles, 37-31.
The worst loss of that 18-year span was the only other defeat Mike Gundy has ever suffered in a season opener, a 35-14 loss to Georgia in 2007 that was eventually avenged two years down the road.
Mike Gundy seems to have season openers down to a tee, and with the success the program has seen since he took over as head coach in 2005, it's easy to see how that 16-2 record has come to be. Gundy and Co. look to bump that record up to 17-2 when they welcome Central Michigan to Stillwater week one.