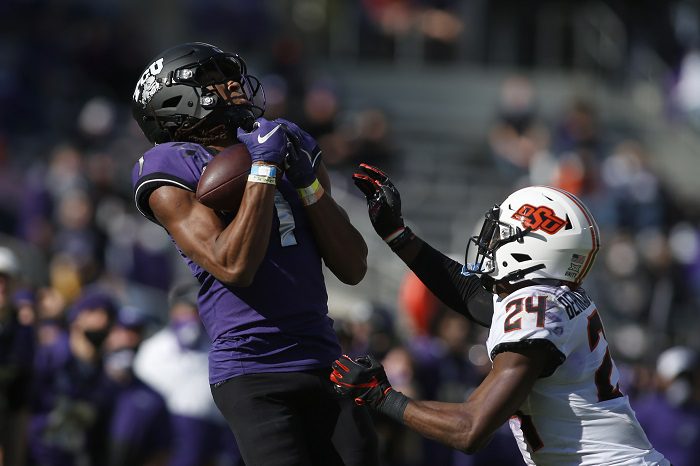 TCU had quite the offseason trying to replace a former legend in head coach Gary Patterson, but with 2021 in the rearview and Sonny Dykes the future in Fort Worth, things are looking up for the Horned Frogs.
Dykes traveled across the Dallas Metroplex from arch-rival SMU to join the Big 12 and TCU and brought with him an excellent staff. Now, with some key pieces from last year's roster missing, such as RB Zach Evans or DE Ochaun Mathis, new names will need to emerge for the Horned Frogs to compete in Year 1.
TCU is a bit of a mystery heading into the season, so what can we actually expect from them? Here is the best-case, worst-case, and most likely scenario for TCU in 2022.
Best-Case Scenario
The Dykes' air raid is extremely quarterback-friendly and Chandler Morris/Max Duggan picks up the nuances by game three or four and the Frogs start to roll. Defensive coordinator Joe Gillespie implements a tough run-stopping attack like he had in Tulsa and has TCU playing well up front by the time conference play rolls around. Kendre Miller picks up where he left off last season and, combined with All-Big 12 WR Quentin Johnston, gives the Horned Frogs a duo of dangerous playmakers. TCU drops a few tough games, but comes out well over .500, which can't be said about 2021.
Record: 8-4
Worst-Case Scenario
Coaching staff and personnel don't mesh as well as they hoped and the season starts off with an embarrassing loss to a bad Colorado team. Then after getting things right against Tarleton State, rival SMU beats its former coach in Dallas before Oklahoma comes to town and throttles the Frogs, and before the season even gets started, TCU is 1-3. The defense starts to figure things out in Game 5, as does the offense, and Chandler Morris starts to string together some decent stat lines in Dykes' system but losses against Oklahoma State, Kansas State, Texas, Baylor, and Iowa State make the 2022 season a forgettable one for Dykes and TCU.
Record: 4-8
Most-Likely Scenario
A quarterback battle that goes deep into camp makes it a bit rocky out of the game for Chandler Morris/Max Duggan, but TCU manages to enter the Oklahoma game 3-0 behind an experienced offensive line and defense. The competition steps up at that point, with OU, Oklahoma State, and Kansas State all waiting within the next four weeks. The Horned Frogs enter November at 5-3 and have a chance to make a bowl game, but must find a win against Texas Tech, Texas, Baylor, or Iowa State. They end up doing just that and find themselves in a bowl game to end the 2022 season.
Record: 6-6