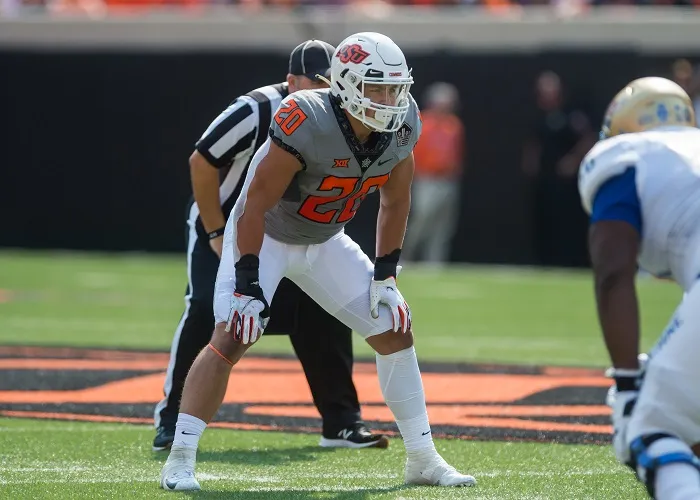 When former Oklahoma State linebacker Malcolm Rodriguez was drafted in the sixth-round by the Detroit Lions, everyone in Big 12 country knew right away that the Lions got a steal.
Rodriguez led Oklahoma State's defense in 2021 with 76 solo tackles, including 15 for loss with 10 quarterback hurries, four forced fumbles, two recoveries, two sacks and one interception. Not only that, but Rodriguez, or "Rodrigo" as he is known in Detroit, was voted as a team captain in Stillwater the last two seasons that he was there.
Now, with Hard Knocks and the NFL preseason underway, Rodrigo is making it hard for Detroit to keep him off the field. In his first game, Rodriguez made a perfect form tackle in his first play on the field that went viral.
Now, in Episode 3 of HBO's "Hard Knocks," the former Oklahoma State star is turning heads again, and this time its his coaches.
"Watch Rodriguez! Watch Rodriguez! (Expletive) sick of saying this about a rookie!" Lions linebacker coach Kelvin Sheppard said during film study. "What do you all want me to do? Put him out there first? Because that's what is about to happen. This ain't nothing against you, Rodriguez. Matter fact, you're (expletive) playing your ass off, dude. But this is a rookie! Who I'm doing everything I can not to put out here first! I'm sick of (expletive) saying it!"
"Keep playing your ass off, dude," said Sheppard. "He's going to continue climbing the depth chart until someone decides they're not going to let this rookie take my job. He ain't a first round pick. He ain't a second round pick. He ain't a third round pick. He ain't a fourth round pick. Look, if he's the better guy, he's the better guy. Ain't nothing wrong with that. But it's the fact that he's doing it right. He's doing what he's coached to do."
"I had a coach who has been in this building for five years tell me he hasn't seen a linebacker make that type of play since he's been here," Sheppard added. "A coach who has been here five years said he's not seen a stack linebacker make this type of play. That is (expletive) high linebacker play, man. I love it. I love it, 44."
If his current trajectory says anything, it will be difficult to keep the former Oklahoma State Cowboy and Wagoner Bulldog off the field for much longer in Detroit.