Big 12 News
Kansas Football Depth Chart Projections for 2022 Season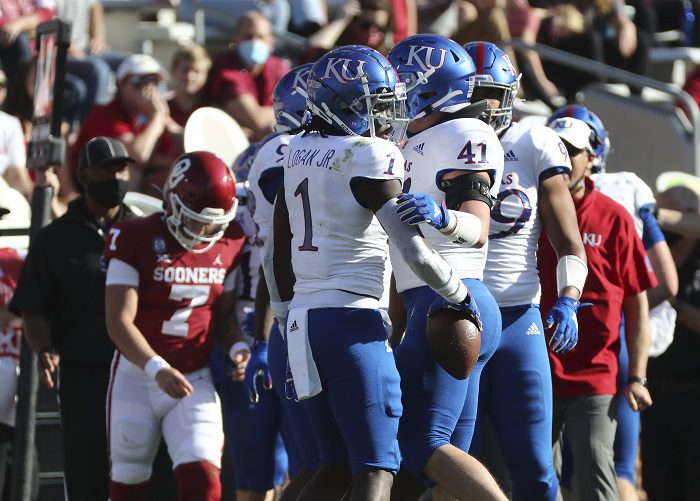 The season is drawing near with each passing day. Training camp is getting ready to wind down and practices gearing up for a specific opponent in Tennessee Tech will begin soon. It's time to dive into depth chart projections for the University of Kansas football program and how it will shape the turnaround of the program.
Quarterbacks
Starter: Jalon Daniels
Backup: Jason Bean
Daniels finished the 2021 season in a strong fashion and from all accounts, he's impressed throughout spring practice and summer training camp. Bean has starting experience, but is best suited to come off the bench for the Jayhawks if anything were to happen to Daniels.
Running Backs
Starter: Devin Neal
Backup: Ky Thomas
Devin Neal is primed to take a big step in his second-year with the Jayhawks. He looked solid as a freshman and should continue to see a large amount of touches in 2022. However, with the transfer portal additions of Ky Thomas (Minnesota) and Sevion Morrison (Nebraska), there will be plenty of competition for touches behind Neal. This may be the deepest running back room in the Big 12. Daniel Hinshaw Jr, who missed the entire 2021 season due to an injury, will be back in the mix as well. Torry Locklin could even add some versatility out of the backfield as a pass catcher. This will be a fun group to watch as the season unfolds.
Wide Receivers
Starters: Doug Emilien, Trevor Wilson, Lawrence Arnold, and Luke Grimm
Backups: Steven McBride and Tanaka Scott
The four wide receiver sets won't be used often, Emilien, Wilson, Arnold, and Grimm should be the top four pass catchers for the Jayhawks this season. Emilien, another transfer from Minnesota like running back Ky Thomas, has the speed to make plays on the outside but can be utilized inside in the slot as well. Grimm can be used inside and outside as well. Wilson is a reliable slot receiver and should see his game expand this season. Arnold is a red zone target with a large catch radius. The rest of the crew will be fighting for playing time but Scott has some upside that has plenty of potential if anyone goes down to an injury during the season.
Tight End
Starter: Trevor Kardell
Backup: Jared Casey
Trevor Kardell stands above the rest. His height and athleticism give him an edge and he's been a standout throughout camp. Kansas will likely be a run heavy team this season and whoever is playing the tight end position for the Jayhawks will need to showcase their blocking skills. Jared Casey has experience at fullback and tight end and was recently awarded a scholarship after being a preferred walk-on this past season. Mason Fairchild is another name to keep an eye on.
Offensive Line
Starters: LT Early Bostick, LG Michael Ford Jr., C Mike Novitsky, RG Armaj Reed-Adams, RT Bryce Cabeldue
The Jayhawks are returning four of five starters along the offensive line. This will be huge for cohesiveness and comradery along the line. They shouldn't have much trouble getting after it early in the season. The unit bulked up in the offseason and are looking to take significant strides to help lead the offense to the next level.
Two transfers, Dominick Puni (swing tackle) and Deondre Dorion (center/guard) should be able to jump in when called upon as the season rolls along. Freshman James Livingston could be a future starter at left tackle, but shouldn't be forced into action unless absolutely necessary.
Defensive Tackle
Starters: Sam Burt and Caleb Sampson
Backups: Caleb Taylor and Eddie Wilson
Burt and Sampson will have a combined 11 years of experience after this season. They'll get the starting nod, most likely, but this is a deep unit that will rotate often. Taylor started a few games as a red shirt freshman and bulked up a ton this offseason in order to keep pushing for playing time and helping the Jayhawks get stronger up front. Ronald McGee, Kenean Caldwell, D.J. Withers, and Tommy Dunn Jr. could all see playing time in the rotation.
Defensive End
Starters: Lonnie Phelps Jr. and Malcom Lee
Backups: Jereme Robinson and Hayden Hatcher
Phelps is a transfer who should start from day one. He is the type of guy who will get after the quarterback and is tough against the run. This will be another position where there will be several guys rotating in throughout each game, including Robinson and Hatcher. Zion DeBose and Cole Petrus will try and play their way into the mix as well.
Linebackers
Starters: Craig Young, Rich Miller, and Eriq Gilyard
Backups: Lorenzo McCaskill, Gavin Potter, and Taiwan Berryhill
Young, a transfer from Ohio State, should help upgrade this new-look linebacking core immediately. He will play the "hawk" role, where he can roam the field as a hybrid linebacker/safety. He's one of those guys that was brought in to make plays and it is something to keep an eye on starting in week one against Tennessee Tech.
Gilyard and McCaskill are also transfers and should hold down the middle linebacker position well throughout the season while Miller is a capable tackle machine that can roam from sideline to sideline. Like the other defensive positions, there will likely be a heavy rotation throughout the season so plenty of guys will see reps each game.
Cornerbacks
Starters: Jacobee Bryant, Ra'Mello Dotson, and Kalon Garvin
Backups: Cam'Ron Dabney, Monte' McGary, and Kwinton Lassiter
Gervin brings some streadiness to the position as a transfer from Michigan State. Bryant and Dotson are the young guys of the group who learned and struggled their way through their freshman seasons but should be primed to make that second-year jump. McGary could end up being a starter. He's a seventh (yes, you read that right, seventh) year senior and transferred in from Utah State. He has the experience you want to help some of these younger guys in the secondary along the way. In a perfect world, the younger guys outplay McGary and become the regular starters week-in-week-out.
Safeties
Starters: Kenny Logan Jr. and Marvin Grant
Backups: Jarrett Paul and O.J. Burroughs
Kenny Logan Jr. is back as one of the best returning safeties in the Big 12. He's getting some help in the form of a dynamic duo with transfers Marvin Grant and Jarrett Paul. Grant started every game for Purdue last season while Paul is an experienced, versatile safety/cornerback hybrid who came from Eastern Michigan via Rutgers. Paul finished the 2021 season with 46 tackles while Grant finished the season with 76 total tackles along with three forced fumbles.
Logan was among the best safeties, statistically, in college football in 2021. He finished the season with 110 total tackles. This is an experienced group that should make the Jayhawks defense much stronger in 2022.
The entire Kansas Jayhawks roster has been upgraded from top to bottom and there should be plenty of improvement at all position groups this season. The theme of cautious optimism continues to grow around the program as the season is nearly set to kickoff.