Oklahoma Sooners
Watch: Rhamondre Stevenson on the Receiving End of Reporter's Worst Nightmare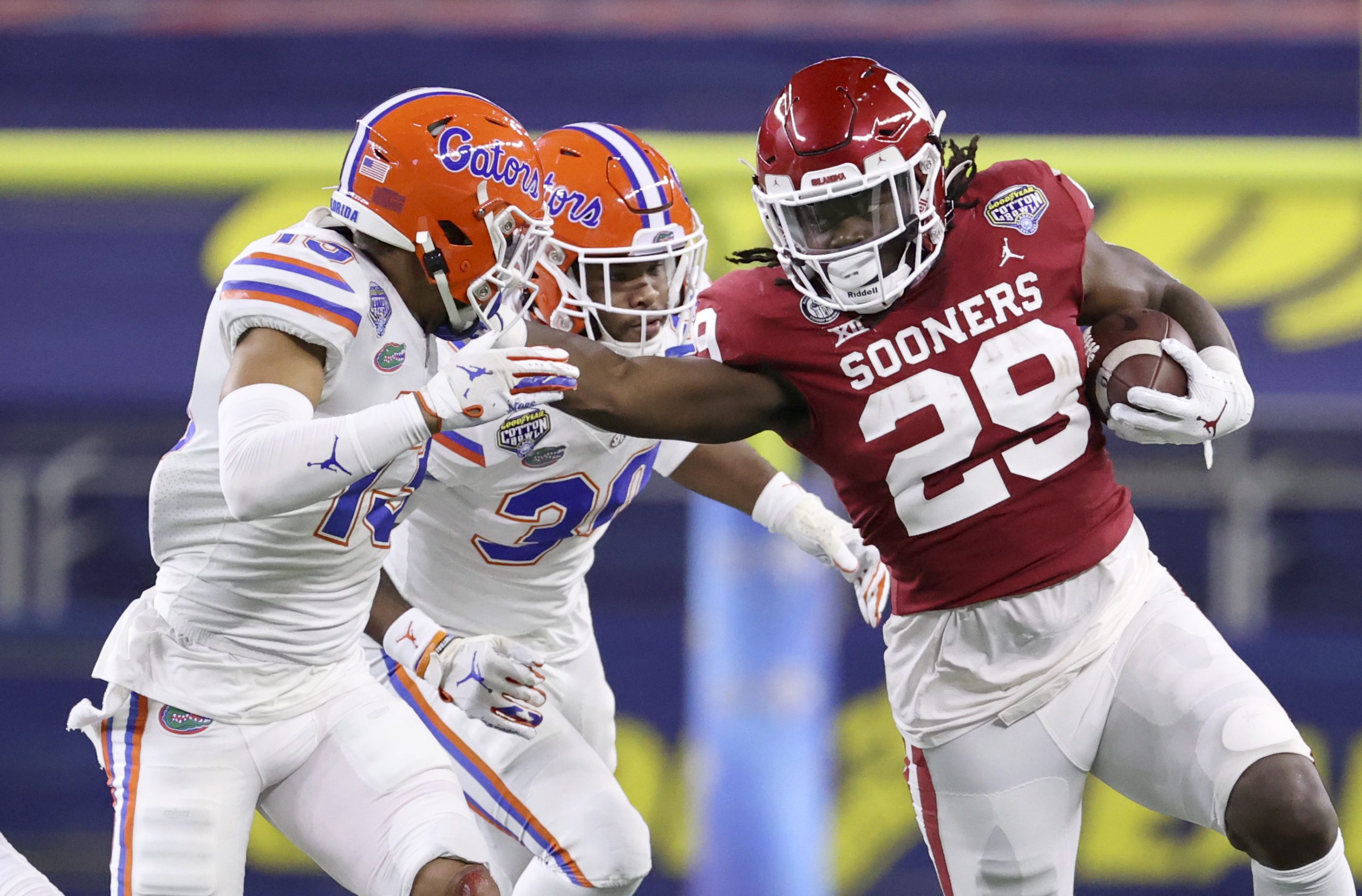 Former Oklahoma running back Rhamondre Stevenson is expected to carveout an expanded role in the New England Patriots' game plan in the 2022-23 NFL season, so naturally he is a commodity with the media in Foxborough.
On Wednesday, he spoke with media, but unfortunately he was on the receiving end of a reporters worst nightmare. When asking Rhamondre about what he thinks his best attributes as a runner are, the reported trips over his words not once, but twice.
Here's the video, a clip from @Patsperfect_ on Twitter. Take a look.
Now, clearly the reporter didn't intend to get his words mixed up and it happens to the best of us. Either way, Stevenson appeared to give the guy time to straighten things out and finish his question and that was the end of it, but as we all know, the internet never forgets.
Reports out of Foxborough have suggested that Stevenson has improved his game going into year two and has caught the eye of head coach Bill Belichick.
"Mondre's done a really good job improving his pass game skills, starting with blitz pickup and protection," Belichick said. "Route running — he's got good hands, catching the ball's never really been an issue. It's setting up defenders, recognizing coverages, when to sit down, when to break, depending on what the rest of the pattern is, how to maximize the distribution on the pattern. The back's always kind of the last person in the pattern for flare control. So, whatever the rest of the players are running, the back is generally responsible for filling in — being in the right spot so the quarterback has an outlet. . . . Each play's a little bit different. A lot of times the backs, even their release through or around the line of scrimmage – depending on what's going on with the rush – can be quite different from play to play. . . . He's way better than he was last year and he understands that's an important part of his game. It's not just carrying the ball, it's all things that go with the passing game. So, he's done a great job."