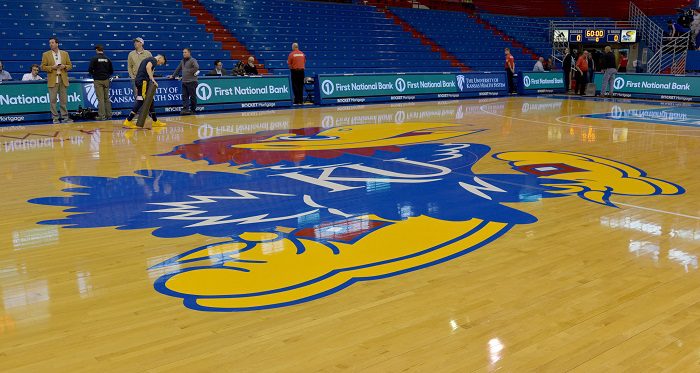 Bronny James, son of NBA all-star LeBron James, is a four-star shooting guard in the class of 2023 and is rated as the No. 49 prospect in the country.
However, the NIL value and television ratings that come with James make him one of, if not the most sought-after member of the 2023 class. It has been widely assumed that Bronny would skip college basketball and go straight to the NBA, but in recent months it appears that his journey might include a stop at the college level.
The UCLA Bruins are the favorite to land Bronny, according to BetOnline.ag, with 1/1 odds of landing the NBA legacy. Just behind the Bruins are the Oregon Ducks, who come in at 5/4 odds. Blue Bloods from around the country are scattered across the short list, but one destination from Big 12 country sticks out for us, and that is the Kansas Jayhawks, who come in at 12/1.
The defending national champions have one recruiting tool that the rest of the list can't use, and that is that they are just that: defending national champs. While it is unlikely that sways James from leaving the confines of Los Angeles, it's still a fun possibility to throw around.
Here is the entire list of odds to land Bronny James, courtesy of BetOnline.ag.
| | |
| --- | --- |
| UCLA | 1/1 |
| Oregon | 5/4 |
| North Carolina | 4/1 |
| USC | 6/1 |
| Michigan State | 15/2 |
| Duke | 8/1 |
| Kentucky | 10/1 |
| Kansas | 12/1 |
| Ohio State | 14/1 |
| Michigan | 18/1 |