Big 12 News
Tyler Shough Named Texas Tech Starting Quarterback, But Joey McGuire Says Fans Will See All Three QBs This Season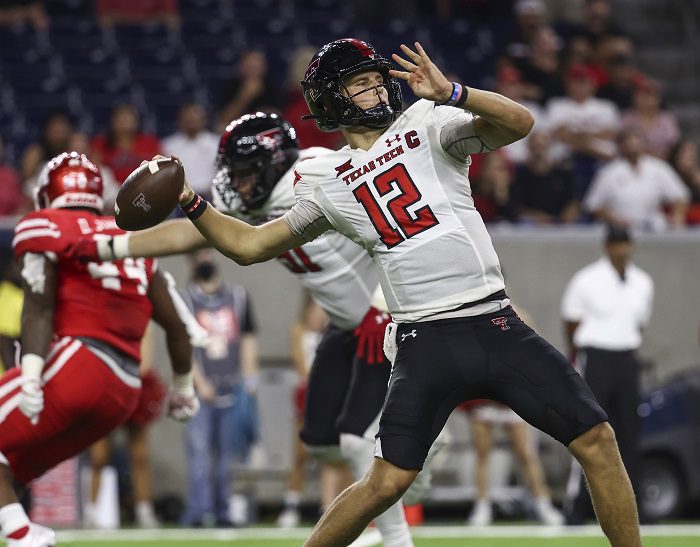 The Texas Tech Red Raiders have their Week 1 starting quarterback heading into the 2022 college football season.
On Sunday, Joey McGuire named Tyler Shough his starting quarterback. Shough transferred in from Oregon after the 2020 season and was named the starter last fall. He started first four games last season and then went down for the season with a broken collarbone suffered against Texas. He threw for 872 yards and 6 touchdowns prior to his injury.
Prior to arriving in Lubbock, Shough threw for 1,559 yards and 13 touchdowns, and rushed for 271 yards and two scores in seven games for the Pac-12 champions.
Texas Tech made the announcement with a video on Twitter.
Head coach Joey McGuire said in a statement, "Tyler has a great football IQ and has really captured what we want this offense to look like with the type of responsibility we put on the quarterback. As I've said all along, though, we fully intend for Red Raiders fans to see all three of these QBs throughout the season. This is as gifted a room as I've ever seen, and I'm willing to put the depth of our quarterback position against anyone else in the country. I know both Donovan Smith and Behren Morton will be ready when called upon as they have certainly earned the respect of myself and their teammates."
Texas Tech opens the 2022 football season on Saturday, September 3rd against Murray State.