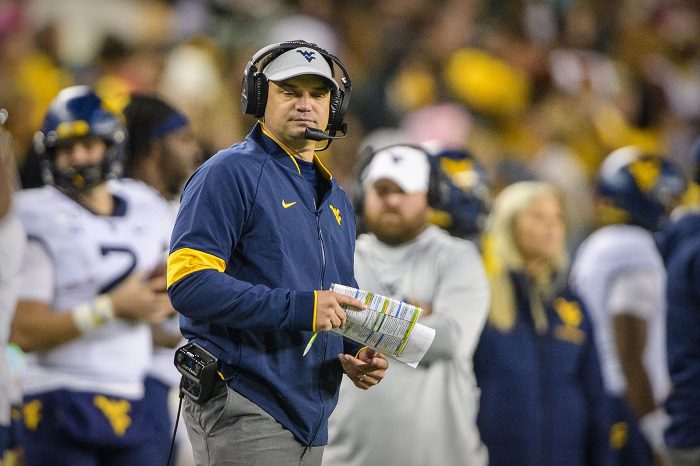 When you hear people talk about their national college football picks for the season, you always hear them talk about their 'dark horse' team for the year. No, it's not the Alabama's, Clemson's, or Georgia's of the world. It's typically a non-blueblood team or even a Group of Five school.
But I am not here to talk about the college football playoff. There is more than enough excitement surrounding the Big 12. The conference is as wide open as ever as nearly every team has a new quarterback this season. Most people have Oklahoma and Baylor at the top of their preseason ballots but there is another school that has caught my eye. No, I am not buying into the Texas hype or pounding the table taking the popular Kansas State pick. How about the West Virginia Mountaineers?
I know that Neal Brown is on the hot seat this season and rightfully so. Over the last three seasons, West Virginia has had less than stellar results. They haven't won more than six games in a season since he took over in 2019. In fact, they are a sub .500 team overall during his tenure (17-18).
That alone makes the future very bleak. Not once over the last three years has anyone taken the Mountaineers as a serious threat to compete at the top of the Big 12 Conference. Why? Because they haven't had a competent quarterback since Will Grier was on campus. Over the past three years, it's been Austin Kendall, Jarret Doege, and a sprinkle of Garrett Greene. The jury is still out for Green but let's face it, neither Austin Kendall nor Jarret Doege were taking this program anywhere.
West Virginia has had some solid pieces over the years despite the results. But when you don't have a quarterback in this conference, good luck winning ballgames. As we enter year four of the Neal Brown experiment, a new face has emerged at the quarterback position in J.T. Daniels.
Before you scream "HE COULDN'T BEAT OUT STETSON BENNETT AT GEORGIA!" hear me out. The man has been bitten by the injury bug throughout his career. Whether it was at USC or Georgia, the problem for JT hasn't been the lack of talent. It's been the lack of staying healthy. As a sophomore at USC back in 2019, he tore his ACL in the season opener. He then transferred to Georgia in 2020 and his first start against Mississippi State late in the year he went 28-of-38 for 401 passing yards with 4 touchdowns. JT went on to start in the Peach Bowl and was also named the starter going into last season. Then another injury happened in last year's season opener against Clemson. He was never the same after that injury.
Now he's fully healthy are ready to go to West Virginia. And while the Mountaineers may not have as much talent as Georgia does, they still have some impressive pieces around him. The entire offensive line returns up front and he's got some weapons in the passing game with Sam James, Kaden Prather, and Bryce Ford-Wheaton. Of course, they also have tight end Mike O'Laughlin as well.
Oh, and did I mention the new offensive coordinator, Graham Harrell? He's good enough to be a head coach and somehow Neal Brown got him to Morgantown. Harrell has been known to get the best out of his players and always has one of the top offenses no matter where he has been.
I haven't even mentioned the defense yet but much like the offensive line, their defensive line is arguably the best unit on the team. We all know that games are won and lost up front and the fact that this team has good lines on both sides of the ball is an added bonus.
If you needed yet another reason to like this team, take a look at their schedule. Sure, they have a tough non-conference slate with Pittsburgh and Virginia Tech but what about their conference schedule? They get Baylor, Oklahoma, and Kansas State at home. That's a huge plus for this football team.
As I mentioned earlier, Kansas State is a popular dark horse pick in the Big 12 Conference. Don't get me wrong, I am a believer in Kansas State this season, but they aren't alone. Vegas has set West Virginia's win total at 5.5 this season. I may just take my Heartland College Sports money and play that over. Forget about being a dark horse, West Virginia may just be one of the biggest sleepers in college football.