Baylor Bears
Ranking the Top Five Big 12 Linebackers Heading into the 2022 Season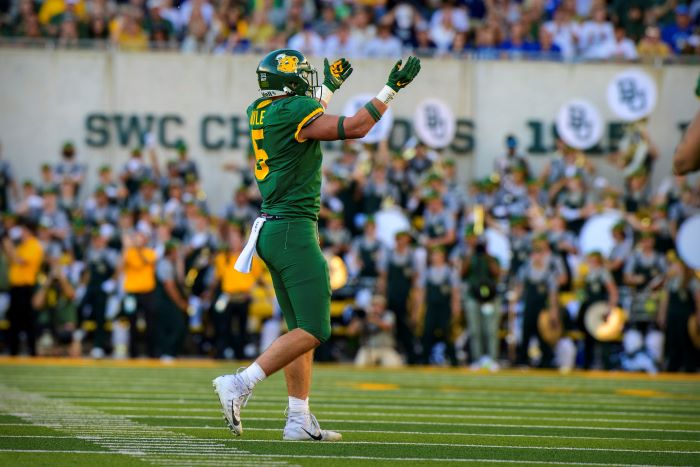 The 2022 college football season is right around the corner as the action gets underway later this week. Before the games arrive, I thought it would be fun to take a look at some of the best players in the Big 12 at each position.
Today, it's time to rank the top five linebackers in the Big 12 Conference.
1. Baylor LB Dillon Doyle
Ever since Dillon transferred from Iowa back in 2020, he has been one of the best linebackers in the Big 12. Doyle has started all 23 games during his time at Baylor and has racked up 147 tackles. He even played a little offense last season, scoring two touchdowns against BYU. While Terrell Bernard got the spotlight last season for Baylor, people forget that Dillon was second on the team with 90 tackles. Now with Bernard gone, it's Dillon Doyle's turn to lead that defense.
2. Texas Tech LB Tyree Wilson
Call him an edge player or whatever you want but he's listed as an outside linebacker. Tyree is coming off a good 2021 season where he led the Red Raiders in sacks (7) and tackles for loss (13.5). Under new defensive coordinator Tim DeRuyter, Wilson will transition to a more standup pass rusher coming off of the edge which should give him plenty of opportunities to rack up those sacks. Texas Tech isn't going to be some defensive juggernaut this season, but Tyree will be the anchor of it. I am dead serious when I say you should have seen this man in person at Big 12 Media Days. He looked like he was built in a football laboratory.
3. Kansas State LB Daniel Green
Daniel returns to Kansas State with plenty of experience as this will be his fifth year in the program. He started 12 games last season and made the most of those starts as he led the team in tackles (89) and tackles for loss (16). Even when Kansas State switched to a three-man front last season, Daniel thrived. Whether it's running through the backfield or tackling in open space, Daniel can do it all.
4. Texas LB DeMarvion Overshown
It's been an interesting road for DeMarvion during his time as a Longhorn. He started as a safety and then ended up moving to linebacker due to a lack of depth at the position. Last season DeMarvion had a team-high 74 tackles as he showed off his athletic abilities and it appears that the coaching staff will utilize his athleticism more. Don't be shocked to see Overshown all over the field this season. He could be put in a lot more situations on the edge as a pass rusher which is something Texas desperately needs.
5. TCU LB Dee Winters
It's always tough to make a top five list but Dee Winters belongs here. Dee led his team in tackles last season (74) and is one of the anchors of the TCU defense. He enters the 2022 campaign with 167 career stops, the most among current Horned Frogs. He also leads all active TCU players with three career double-digit tackle games. Winters will be an important piece for new defensive coordinator Joe Gillespie to help start the Horned Frogs' defensive overhaul in 2022.