Baylor Bears
Top 10 Big 12 Atmospheres For the 2022 Football Season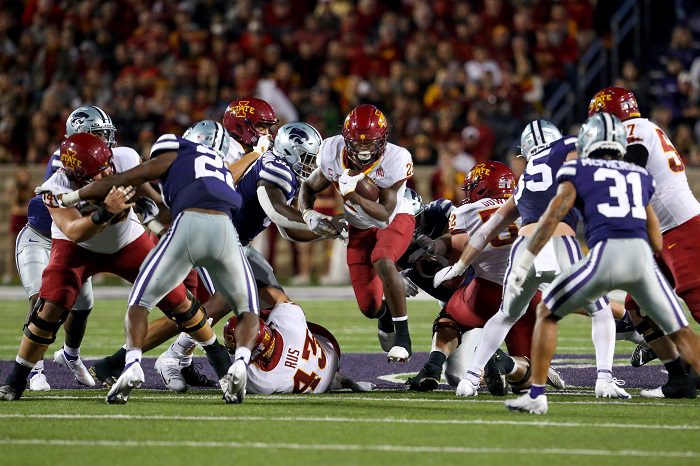 With the season kicking off with Week 0 this Saturday, the stage is set for a highly entertaining season. We get our first rivalry next Thursday when West Virginia faces Pitt. So I figured I'd take a look at the top 10 fan atmospheres for games involving Big 12 teams this season.
10.) Iowa State at Iowa (Sept. 10)
This game always produces great atmospheres, and I would've ranked it even higher if it was in Ames. But Iowa, like tons of Big Ten teams, always produces great atmospheres, plus it's an in-state rivalry, with Iowa State fans easily traveling as well. This will be Hunter Dekkers's first real test, making it a much-watch game early in the season.
9.) Oklahoma State at Baylor (Oct. 1)
Everyone remembers the epic Big 12 title game from a year ago, and this rematch should be a lot of fun as well. Both teams are replacing a lot, and Baylor may not be known for insane atmospheres, but the game against OU produced a great atmosphere especially for an 11:00 a.m. kickoff. Neither team should have more than one loss at this point in the season, and if both are undefeated it'll be a Top 10 matchup.
8.) Oklahoma at Nebraska (Sept. 17)
There's not much explanation needed here. Nebraska always has one of the best atmospheres, and they're welcoming OU for the first time since 2009. It's going to be on Big Noon Kickoff on FOX, and with all the hype around Nebraska's new offense, and questions around OU this season, this could be a close one. Add in former UT QB Casey Thompson starting, the storylines surrounding this one will be endless.
7.) Texas @ Oklahoma State (Oct. 22)
Anytime you get a team that's leaving the Big 12, going into a place known for its atmosphere it's going to be exciting. That's no different here with the Longhorns potentially making their last trip to Stillwater. This could also be a matchup with Big 12 title implications, and Ewers being tested by a team known for its defense. If this is a night game this has potential to be even higher on this list.
6.) West Virginia @ Pitt (Sept. 1)
If this game was in Morgantown, it could be No. 1. This is the first Backyard Brawl since 2011, these two hate each other. Their fans share the same market, and the same colors. College Gameday will be there, and will be the first must watch game of the season in all of college football. Both teams' offenses will be going through change, and we'll get to see what JT Daniels is made of, and if Neal Brown can turn it around, very early on.
5.) Baylor @ BYU (Sept. 10)
This one will be fun, after Baylor's win last season this one got even more anticipated. BYU is playing a legit schedule this year, and both teams should be considered dark horses to make the playoffs if all goes to plan. Add in this will be the first iteration of Big 12 after dark, with the game starting at 9:15 central, so get your coffee, or vodka red bulls ready for this one. No BYU fans won't have a crazy day of tailgating, but Provo always brings one of the best atmospheres, and with this being a preview of their new life in the Big 12, this is a perfect game to finish week 2.
4.) Texas vs Oklahoma (Oct. 8)
Alright, this one is one you write in every year. I got to be in Dallas for a Stars game the day this was going on in 2018, and it was a great place to be. The State Fair outside, it's 11 am so you almost get that early Big Ten game feel. These two teams hate each other and even with Texas being down, this is seemingly always an exciting game. We don't know how many more times this will be a Big 12 game, but we know it is this season and will be fun, even if it is the last one, in the Big 12.
3.) Kansas State at Iowa State (Oct. 8)
Yep, the Red River Rivalry (Shootout) will be a great atmosphere, but it's playing second fiddle that day for me. I had to get the good (slightly crazy) people up in Ames on this list at some point and Farmageddon is that one. I don't know what's so special about that bridge, but it's up and the Cotton Bowl doesn't have that one so point Farmageddon over the Red River Rivalry here. Both teams have question marks over how their QB will perform (as does everyone in this league), and this will be a fun midseason test. Now leagues like to make up rivalries a bit and that's just what happened here, when the first round of conference realignment happened, both schools made efforts to prop this game up. It worked, this is a must-see rivalry now, and going to have the best Big 12 atmosphere on October 8th.
2.) Oklahoma State at Oklahoma (Nov. 19)
Bedlam is always going to be high up on this list, no matter the school's records, or where it's played. It had the best atmosphere in the league last season, and both teams will be good again, it should have Big 12 title implications, and could be the last Bedlam for some time. While the game being in Norman takes the hatred down a notch then if it was in Stillwater, there'll still be plenty of hatred here. The last thing OU would want after dominating this series is losing two straight as it's possibly discontinued.
1.) Texas @ Texas Tech (Sept. 24)
This one was pretty easy, there's not a fanbase in the Big 12 with as much hatred for Texas as the one in Lubbock. The circumstances are different but look back to Chris Beard's return to Lubbock in basketball, or look at the return game in Austin where it was a 50/50 crowd, to preview what this will look like. Add in Quinn Ewers considered Tech before choosing Texas, look at Baker's return in 2016 or Trae Young whose only crime was being born in Lubbock, visiting Tech in 2018. There'll be hate here for many different reasons, and a lot of hype around this season with Joey McGuire at the helm. If Texas Tech can split the Houston and NC State games, this could be a team receiving votes. Football-wise it'll be a fun test for Quinn Ewers, who should look good against Monroe, and UTSA, but struggle against Alabama. While Texas put 70 up on Tech last season, it'll be his first true road test, and he'll have 10 seniors in the secondary to contend with.