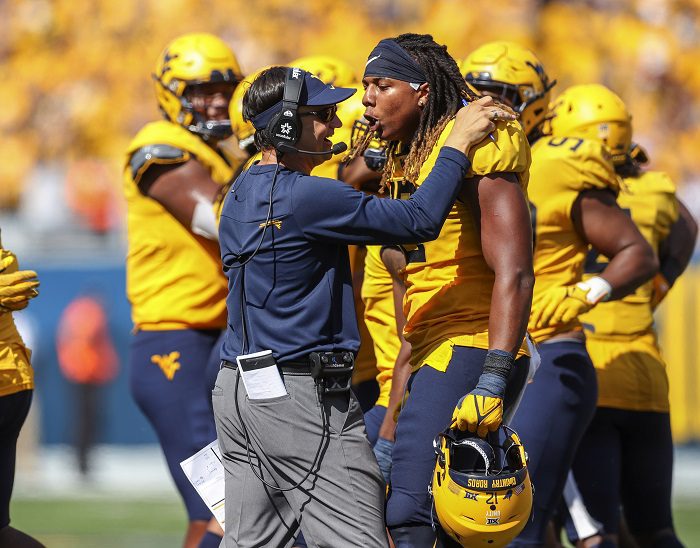 College football is finally back, and what better way to kickoff the 2022 season than by reviving the Backyard Brawl. Here's everything you need to know about the the upcoming matchup in our West Virginia vs. Pittsburgh preview and prediction.
Game Info
Thursday, September 1, 2022; 7:00 p.m. ET; Acrisure Stadium; Pittsburgh, Pennsylvania
TV: ESPN (Broadcast Crew TBA)
Radio: TBA
Records: West Virginia 0-0; Pitt 0-0
Rankings: West Virginia unranked; Pitt ranked No. 17 in Preseason AP Poll
Series History: Pitt leads 61-40
Last Meeting: West Virginia 21, Pitt 20 (2011)
Favorite: Pitt (-6.5)
Fun Fact: The "Backyard Brawl" is the 14th oldest rivalries in college football, dating back to October 26, 1895.
Key Players
West Virginia Mountaineers
J.T. Daniels, Quarterback
Where else would we start but the biggest incoming transfer of the offseason for the Mountaineers? So much of West Virginia's success will be based off of Daniels' health. The reunion with OC Graham Harrell is promising and the offensive line in front of him is experienced and talented. When he can stay on the field, Daniels has been good, completing 63.8 percent of his passes with 32 touchdowns to 18 interceptions. The former five-star quarterback is capable of making 2022 a surprise year for the Mountaineers, but he needs to go the distance for that to happen.
Dante Stills, Defensive Tackle
Despite everyone around him seemingly looking for a way out through the portal or the NFL, senior leader Dante Stills stuck around for West Virginia and will be a key cog for them in 2022. Stills leads four returning starters on defense, but the defensive line should be a strength with talented DE Taijh Alston and a couple of impact transfers joining the room. Stills will be the motor that makes this unit hum, and in order for West Virginia to reach its goals, he will need to have the best year of his career in Morgantown in 2022.
Pittsburgh Panthers
Kedon Slovis, Quarterback
As it turns out, both starting quarterbacks in this game were teamates at USC as both Daniels (2018 class) and Kedon Slovis (2019 class) were Trojan signees out of high school. Slovis started nine games for USC last season, throwing for 2,153 yard and 11 touchdowns to eight interceptions. Now, in a Pitt offense that will have to replace All-ACC players in Kenny Pickett and Jordan Addison, Slovis will have a strong running game to lean on, but will have to attack the field vertically to make the Panthers' offense work.
Calijah Kancey, Defensive Tackle
The Pitt defensive line was one of the best in the ACC last season, and could be even better despite losing some talent to the NFL. Returning First-Team All-ACC defensive tackle Calijah Kancey is a big part of that, as he lead the defense with 13 tackles for loss last season and finished second on the team with seven sacks. In 2022 he will again be the anchor of a strong defensive unit and will likely be an All-American for the second season in row (Third-Team AP All-American in 2021).
Key Storylines
West Virginia Mountaineers
Will the running game have success against a stout Pitt defensive line? That will be the question of the game for West Virginia. Redshirt freshman Tony Mathis will likely serve as the starting RB for the Mountaineers this fall and might face the toughest DL he will see all season long in Week 1. Plus, the crowd at Acrisure Stadium (Can we please just call it Heinz Field?) will be raucous given this is the first time the rivalry has been played in 11 years. A strong offensive line might be WVU's saving grace, but they will need to get the running game going early so that J.T. Daniels can have some room to work with in the passing game.
Pittsburgh Panthers
What will the Pitt offense look like with out Kenny Pickett, Jordan Addison, and offensive coordinator Mark Whipple? Well, the short answer is not as good as in 2021, but still plenty good enough. Pitt won't throw the ball all over the yard in 2022, but with eight returning starters and a wealth of offensive talent, the Panthers will still be a force offensively. The focus this fall will be on RB Israel Abanikanda who led Pitt in rushing yards (651) and rushing touchdowns (seven) on 123 carries (5.3 avg.) in just six starts in 2022. If they establish the run against an inexperienced WVU defense early, they will likely control the tempo of the game, spelling trouble for the 'Eers.
Prediction: Pitt 27, West Virginia 24
In a hard-fought rivalry game, I'm giving the edge to Pitt. 15 returning starters and a home crown will lift the Panthers to a victory thanks to a late field goal. The 2022 campaign gets off to a rocky start for Neal Brown, but there are silver linings to be found. West Virginia hangs around and keeps this thing knotted up late into the game thanks to a strong defensive line and a better-than-expected running game. Ultimately, the inexperience in the secondary leads to WVU dropping the season opener, but there are things to build on going into Week 2.