Baylor Bears
Big 12 Drink Tour: Trying the Most Popular Drinks From Each Big 12 School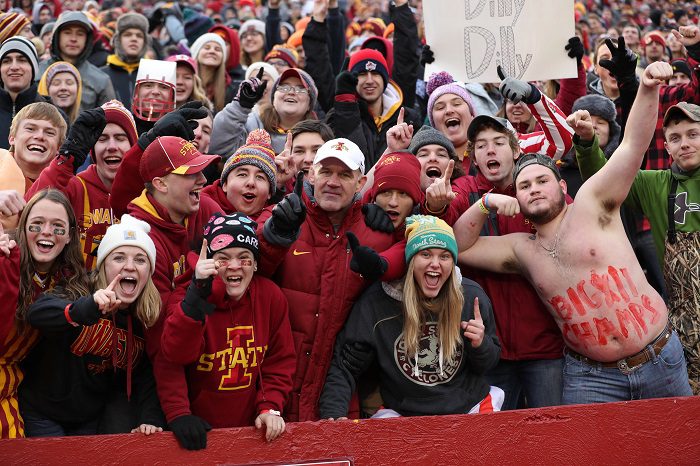 As the summer winds down, what better way to beat the summer heat than to cool off with some drinks? But these aren't just any drinks. I decided it would be a great idea to find out the most popular drink from each current Big 12 fanbase and try it out. Some obviously are better than others and I will say that it was tough to get some feedback for certain schools. So, if you feel like your school's drink isn't correct, please feel free to let me know so when I revisit this down the road, I can make sure it makes the list. So, without further due, let's have a drink, shall we? Cheers!
Texas Longhorns
Tito's Vodka
I feel like these two were a match made in heaven for this list. A popular vodka based right out of Austin is a fan favorite amongst the Longhorn faithful. There are a thousand different ways to drink the clear spirit but and while I could have gone with some club soda and a lime wedge, I decided to do one of my favorite drinks which is a Moscow mule. It was light, refreshing and was a terrific way to beat the Texas heat. I even had this Tito's copper mug to go with it.
Texas Tech Red Raiders
A Chimy's Margarita
I was told that when you attend Texas Tech University, a Chimy's margarita is a must have. The chain started back in 2002 with its original location based right in Lubbock. Of course, the bar was a hit and they even opened locations outside of Lubbock. Fortunately for me, I spent some time in San Marcos, Texas where I have had the pleasure to go to Chimy's on more than one occasion. So, I decided to relive some old memories and make the drive back to San Marcos to get my hands on one of their famous margaritas. I had the Ferrari Margarita while my wife had the Cadillac. Both were delicious and brought back plenty of old memories. Only this time, I wasn't stumbling out of there like I was in my early 20's.
Kansas
Bourbon and Coke
When I first reached out to Kansas fans, I was told to drink everclear. For those not familiar everclear is a clear spirit that is 190 proof. Unfortunately, I have crossed paths with the toxic drink myself a time or two and I would say it fits right in with Kansas football over the last ten years. However, thanks to the guys over at JayhawkSlant, they gave me the bourbon and coke option as it won a poll on their message boards. For those wondering about the bourbon picked, it was one of the cheapest bourbons I had in my liquor cabinet. It mixed well with the coke of course and was quite tasty. It's a cheap and easy drink you can find at any bar, and I won't complain about this drink one bit.
Iowa State Cyclones
Busch Light
I didn't need to do much research for this one. Iowa State and Busch Light go together like Saturdays and college football. If you ever have the pleasure to visit Ames, Iowa on gameday then you will see plenty of these around. Even when they travel to bowl games, they end up drinking the entire city out of Busch Light. This isn't some fancy craft beer, but damn is it refreshing. It was a solid drink to cool off on a hot summer day down here in Texas. I will also admit that this is one of my go to beers after mowing the grass because we all know that beer after mowing hits different.
TCU Horned Frogs
Purple Shot
This is supposedly a staple at the University Pub in Fort Worth. It's a purple shot with all kinds of crazy ingredients as you can see above. I wanted to get a good taste of it before I shot it down. It's got a dark, berry like sweetness to it and the vodka doesn't really come through at all. I am not much for taking shots at a bar but this one goes down fairly easy with zero burn. Would I go out of my way to order a shot like this? No, I wouldn't but I wouldn't turn one down either if given one.
Baylor Bears
Balcones Bourbon
Baylor was one of the tougher schools to figure out a drink for but the response I got the most was bourbon from Balcones Distilling in Waco. This 92 proof bourbon is aged at least two years in oak. That's all I know about it. Much like the picture on the mini bottle, corn heavily shines through and there's a slight hint of sweetness. As far the taste, it's definitely different. There are some honey, apple, and caramel notes in there. I will say I am not a fan of most Texas whiskeys but this one is one of the better ones I have tasted. While most may not drink it straight, I thought I would give it a fair shot without washing it down with coke.
West Virginia Mountaineers
Moonshine
I want to start by apologizing to all West Virginia fans. This is not real moonshine. This is obviously store-bought junk, but it is all I can get my hands on down here in south Texas. Moonshine isn't really a thing down here. I have had the chance to try to real juice a time or two and it is a thousand times better than what I am drinking here but this is all I have to work with at this time. With that said this stuff is just ok. I don't mind certain Ole Smokey flavors (I like the cherry), but I have been fond of the Midnight Moon brand from North Carolina. This apple pie shine isn't anything special. It tastes like if I mixed apple juice with some cheap booze to be honest. I feel terrible that this is all I could find, and I just need to make time one day to get my butt up to Morgantown and have some of the real juice outside the stadium.
Oklahoma State Cowboys
The Limey
I was told that this was a staple at the Copper Penny in Stillwater. It has vodka, sweet and sour mix, triple sec, sprite, and lime juice in it. I didn't have good thoughts about this going in but the one I was able to make was actually surprisingly good. It's like a fresh lemon lime drink with some big bright flavors in it. This is supposed to be a 32-ounce drink, but I cut everything in half to make it a 16 ouncer. I could easily see how people could drink plenty of these and feel good afterwards. I must say, this is one of my favorite drinks on this list.
Oklahoma Sooners
The Swirl
Although I did not get this drink from The Mont in Norman, Oklahoma, I do know what the drink contains. It's a sangria/margarita mix that is supposed to represent the colors of the Sooners. I am not one for sangria or frozen margaritas and forgive the lack of a swirl in this drink I had from a local restaurant where I live. I thought it was going to be nasty, but it was not bad at all. For a scorching summer day, this is one of those drinks to kick things off. I have read that the Mont sells over 120,000 swirls a year. It's pretty obvious that those fans up in Norman love them some swirls.
Kansas State Wildcats
The Nancy
I was able to find out about this drink thanks to Tim Fitzgerald who covers Kansas State over at GoPowercat. This drink is served at Taco Lucha, and it is a beer with pineapple juice. Normally it is served using Busch Light or Old Milwaukee beer but since it is hard to find where I am, I used PBR. For me, this was definitely an odd combination. It tasted like a fruity Hawaiian beer or almost mimosa like. I didn't love it or hate it, but I don't think I could drink more than one of these.