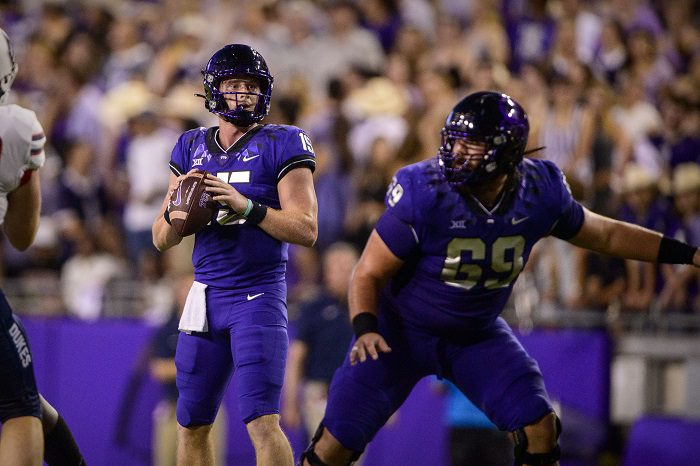 Here is everything you need to know about the upcoming matchup between the TCU Horned Frogs and the Colorado Buffaloes.
GAME INFO
Friday, September 2, 2022; 9:00 p.m. CT; Folsom Field; Boulder, Colorado
TV: ESPN (Broadcast Crew TBA)
Radio: FrogsToday; Horned Frogs Sports Network
Records: TCU 0-0; Colorado 0-0
Rankings: Both teams unranked
Series History: First ever matchup
Last Meeting: N/A
Favorite: TCU (-10.5)
Fun Fact: TCU essentially replaced Colorado in 2012 after the Buffs left for the Pac-12. Despite that fact, and their relative proximity to one another, the programs have never met.
Key Players
TCU Horned Frogs
Chandler Morris, Quarterback
I'm going out on a limb here, but I expect Oklahoma transfer Chandler Morris to trot out as the starter in Boulder next Friday. Morris has natural elusiveness and pocket presence that can take the Sonny Dykes offense to the next level, and if he is able to tap into that from the get-go, TCU could be a problem in 2022. Now, despite the fact that I see Morris as the starter, we should see both Morris and Max Duggan in this game, so by no means is the battle truly over just yet.
Tre'Vius Hodges-Tomlinson, Cornerback
Tre'Vius Hodges-Tomlinson, a former All-American defensive back, will be the leader among eight returning starters from a 2021 defensive unit that struggled mightily. If TCU is going to pick up Joe Gillespie's scheme quickly, it will take players like Hodges-Tomlinson getting involved in stopping the run, something TCU was atrocious at last season. The 2021 First-Team All-Big 12 selection will be a key cog for the Horned Frogs again this season, and it all starts in Game 1 against Colorado.
Colorado Buffaloes
Tommy Brown, Offensive Line
Colorado was bad along the offensive line in 2021, but should be a vastly improved unit in 2022 after adding a few pieces, including Alabama transfer Tommy Brown. Brown appeared in 29 games over the last three seasons in Tuscaloosa, and should be an impact player right away. Three starters return from last season under a new offensive line coach and offensive coordinator. If Colorado is going to build off of their 4-8 campaign in 2021, it will have to start up front.
Isaiah Lewis, Safety
Isaiah Lewis was an All-Pac-12 selection in 2021 after starting in 10 games and appearing in all 12. Lewis led Colorado with 79 total tackles and was second on the team with two interceptions. His experience (39 career games played) in the back end of the defense will be key if Colorado is going to have any success in 2022. After losing seven starters from their squad in 2021, having the top tackler back in Lewis is a good place to start for this season.
Key Storylines
TCU Horned Frogs
A new team, a new head coach, a new place, and a new opponent. These are all things that TCU will have to deal with in Week 1, so some jitters are likely for the Horned Frogs on the road early. The key will be getting rid of those early and settling in and playing football. On paper, TCU is superior to what Colorado will put on the field in 2022, but that doesn't always show up on the scoreboard. The recipe for success here is to take care of the football and let playmakers do their thing in space. If Morris can distribute the ball to guys like Quentin Johnston and Kendre Miller, TCU will be just fine.
Colorado Buffaloes
Colorado on the other hand will need to capitalize on the home field advantage. While this isn't something many think about, the thin air of Boulder, Colorado, has caused issues for many teams in the past, and if the Buffs can put together a decent crowd, there should be an awesome atmosphere for some Pac-12 after dark. If Colorado can keep quarterback Brendon Lewis upright, they have capable playmakers at running back and wide receiver. Stick around and force TCU to make some mistakes, and the Buffs could pull off a Week 1 upset.
Prediction: TCU 31, Colorado 21
While TCU is the better team on paper and is a double-digit favorite, I believe the the Horned Frogs will have to get past themselves and some jitters to win this game. After settling in in the second half, Chandler Morris will show why he was picked to lead this Sonny Dykes offense by scoring a couple of quick touchdowns to put this game out of reach. While they don't quite cover, TCU comes out of Boulder with a 10 point victory and a little bit of confidence heading back to Fort Worth at 1-0.