Big 12 News
FiveThirtyEight Ranks Kansas as 'Best Fit' From Big 12 For Big Ten Expansion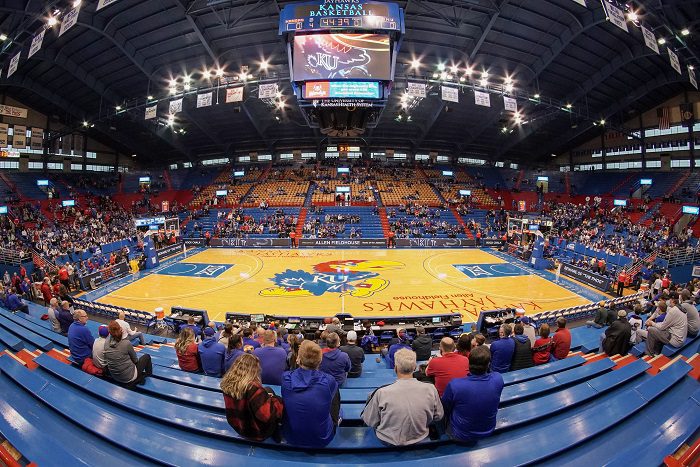 Statistics website FiveThirtyEight put together a list of which remaining schools from around college athletics would be the "best fit" for the Big Ten Conference as the league continues to reportedly consider expansion.
While there were no Big 12 teams in the Top 10 "best fits", as calculated by FiveThirtyEight, the highest-ranked Big 12 team was the Kansas Jayhawks at No. 12.
Their formula for the rankings was based off of a weighted averages of various academic ratings, total enrollment and rivalry history with current Big Ten schools. The categories included academics, AAU status, secular, public flagship university, enrollment and rivalries.
The teams ranked ahead of Kansas in order were: California, Washington, North Carolina, Virginia, Arizona, Pittsburgh, Colorado, Stanford, Missouri, Oregon, and Georgia Tech.
The only other Big 12 school that made the Top 25 for "best fit" was Iowa State at No. 18.
FiveThirtyEight also ranked Big Ten expansion candidates based off of who has the best TV markets and TCU came in at No. 7, while Baylor was ranked No. 9.
Meantime, when it comes to athletic fit based on success in sports, Oklahoma State ranked No. 2 on the list for Big Ten expansion candidates behind Notre Dame. The categories included recent football performance, historical football performance, historical men's basketball performance and number of NCAA Division I titles.
It's a fascinating highly analytical study done (which you can view for yourself here) that goes beyond opinion and conjecture and looks at some of the in-depth decision making that may be coming for the Big Ten Conference.
Most recently, the Big Ten reportedly had a preliminary meeting with Oregon to determine compatibility between the two sides.
As for the Big 12 Conference, the league now waits to see what happens. However, if some of the Pac-12 schools were thinking ahead, they'd be banging down the Big 12's door ASAP.