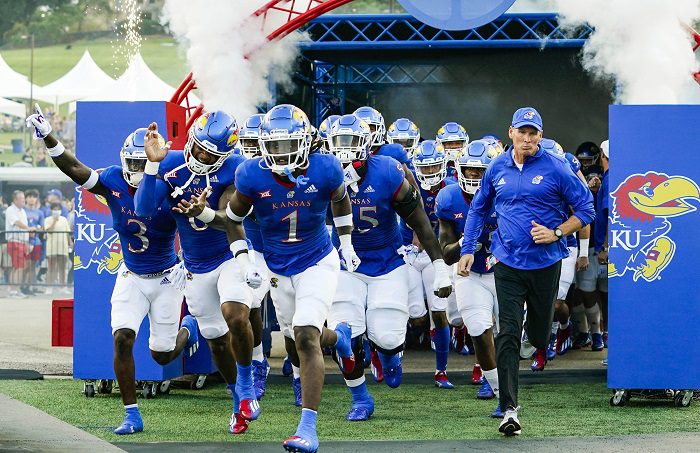 Here is everything you need to know about the upcoming college football matchup between Kansas and Tennessee Tech.
Game Info
Friday, September 2nd, 7:00 p.m. CST; David Booth Kansas Memorial Stadium, Lawrence, Kansas
TV: ESPN+/Big 12 Now
Radio: Jayhawk Radio Network (Brian Hanni)
Spread: N/A
Fun Fact: Tennessee Tech is set to celebrate its 100th anniversary of football. This is also the first match up between these two programs.
Key Players
Kansas Jayhawks
QB Jalon Daniels
Jalon Daniels was the reason that Kansas surged (by KU standards) down the stretch of the 2021 season, which included an upset over Texas and a near-win against Oklahoma. After he was inserted as the starter for the final three games and three quarters, Daniels was threw for seven touchdowns with three interceptions while also adding three rushing scores. Daniels enters his junior season as the guy who could be responsible for turning around KU football. He will need to find his favorite targets at wide out and lean on his depth at running back to start the season, but there's no question he's the leader of this offense.
Safety Kenny Logan Jr.
Kenny Logan Jr. returns for his senior season after earning Second-Team All-Big 12 honors in 2021. There are several news faces on the defensive side of the ball, so having that familiar face in Logan Jr. will be critical, especially early in the season. Logan led the Big 12 Conference with 113 tackles in 2021, the most by a Jayhawk since 2018. Also, those 113 tackles were the most by a safety in the NCAA. What's even more impressive is that 79 of those 113 tackles came unassisted, the most in the Big 12 Conference and third-most in the nation.
Tennessee Tech
QB Jeremiah Oatsvall
If a team is going to pull off the road upset against a Power 5 opponent, you need stability and experience at the quarterback position. That's what Tennessee Tech has in Memphis transfer Jeremiah Oatsvall. Oatsvall is now entering his sixth season of college football.
Prior to Memphis, Oatsvall has a standout career at Austin Peay where he completed 249 of 467 passes for 3,495 yards with 44 touchdowns and 21 interceptions. He rushed for 1,448 yards and 14 touchdowns.
Linebacker Seth Carlisle
Carlisle heads into his senior season (fifth year) and returns as one of the leaders on this season. He was second on the team in tackles last season with 67, along with 1.5 tackles for loss, one interception and two QB hits.
Carlisle recently said he's "as confident as I've ever been coming out of fall camp." We'll find out more Week 1.
Key Storylines
Kansas Jayhawks
These are the kinds of games that Kansas just needs to start dominating to get back to the point where they are then competing regularly in Big 12 games. These types of games haven't always been easy, and sometimes they've been losses, for KU football the last decade. If Lance Leipold wants to get his second season off to a strong start, rolling Tennessee Tech, and taking care of business early with Jalon Daniels, his stable of running backs, led by Devin Neal and Ky Thomas, with a defense showing it can get to the quarterback, would go a long way to getting some mojo back in Lawrence.
Tennessee Tech
An interesting storyline to watch is that Tennessee Tech hired former Austin Peay offensive coordinator Wesley Satterfield as its offensive coordinator and quarterbacks coach. Satterfield was transfer QB Jeremiah Oatsvall's offensive coordinator for two seasons at Austin Peay, where Oatsvall had all of his success, including 2017 when he was named the OVC freshman of the year and made the All OVC second team.
Can these two rekindle their magic and get Tennessee Tech off to a surprising start?
Prediction
The Jayhawks are as deep a team as they have been in years thanks to the hard work done by Lance Leipold's staff. The transfer portal has been great for KU and those dividends should start to pay off this season. Jalon Daniels has a chance to be the best QB in Lawrence in well over a decade. This team still has a long road ahead, but should have no issues at home against a Tennessee Tech team that went 3-8 overall and 1-5 in the Ohio Valley Conference last season.
Kansas 38, Tennessee Tech 17