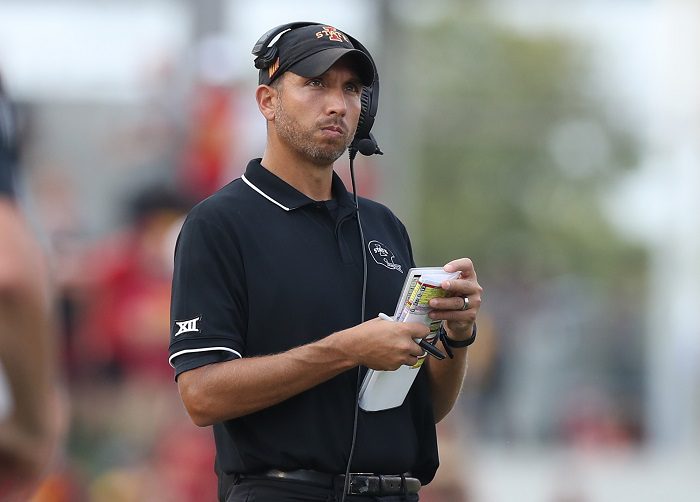 Here is everything you need to know about the upcoming matchup in our Iowa State vs. SE Missouri State preview and prediction.
GAME INFO
Saturday, September 3, 2022; 1:00 p.m. CT; Jack Trice Stadium; Ames, Iowa
TV: ESPN+ (Broadcast Crew TBA)
Radio: TBA
Records: Iowa State 0-0; SEMO 0-0
Rankings: Iowa State unranked; SEMO unraked in FCS
Series History: N/A
Last Meeting: N/A
Favorite: N/A
Fun Fact: Iowa State enters the 2022 season on a five-year streak of bowl eligibility, the longest such streak in school history.
Key Players
Iowa State Cyclones
Hunter Dekkers, Quarterback
We will finally get to see what all the buzz is about as Hunter Dekkers will make his first career start on Saturday. Despite Brock Purdy holding all the major passing records at Iowa State, many around the program feel that Dekkers is an upgrade at the position. Dekkers is the highest-rated quarterback recruit in Cyclone history and his performance in Game 1 will be what everyone tunes in for in Week 1.
Will McDonald IV, Defensive End
McDonald is one of the premiere pass rushers in the country coming into 2022 and if things go his way, we could see him get close to grabbing the Big 12 career sack record in this game alone. Last year's Big 12 Co-Defensive Lineman of the Year recorded a Big 12 best 11.5 sacks and needs just four more to tie the record held by Texas A&M's Von Miller.
SE Missouri State Redhawks
Geno Hess, Running Back
SEMO's offense will be centered around senior running back Geno Hess, who is the Preseason Ohio Valley Conference Offensive Player of the Year. Hess tallied 1,117 rushing yards on 203 carries last fall, averaging 111.7 yards per game and 5.5 yards per carry with 14 touchdowns on the ground. If SEMO is to put up any kind of a fight in this game, it will take a monstrous performance from Hess.
Bryce Norman, Linebacker
As a true freshman in 2021, linebacker Bryce Norman was selected as a First-Team Phil Steele Freshman All-American at the FCS level. Norman led the Redhawks with 66 tackles, including a team-high 32 solos, while also collecting 7.5 tackles for loss, 1.5 sacks, and a team-high three forced fumbles. If there is a play made on the defensive side of the ball, Norman is likely in the middle of it.
Key Storylines
Iowa State Cyclones
The key for Iowa State in this game is to play clean. In year's past, the Cyclones have let teams like lesser teams like Northern Iowa hang around in a season opener and it has cost them. The Cyclones are flying under-the-radar in 2022, which is just how head coach Matt Campbell likes it. If Hunter Dekkers can show some poise in his first start and Iowa State's defensive scheme continues to be personnel-proof, ISU will run away with this game early.
SE Missouri State Redhawks
While SE Missouri State looks to be a contender in the Ohio Valley Conference, they should be out-gunned in this game. However, we have seen what overlooking an opponent can do in college football, and if for some reason Iowa State comes out flat in this one, SEMO has the pieces to make it interesting. Big games from Hess and Norman will be needed if the Redhawks are to pull off the improbable, but it's likely we will hear their names a lot regardless of the outcome.
Prediction: Iowa State 41, SEMO 13
With virtually no pressure and a retooled roster, Iowa State comes out in 2022 with a clean, convincing win over an FCS opponent. The Hunter Dekkers' hype train will build up some steam after a promising performance, and Iowa State gets some real confidence going as they look forward to a Week 2 matchup with the in-state rival Iowa Hawkeyes.