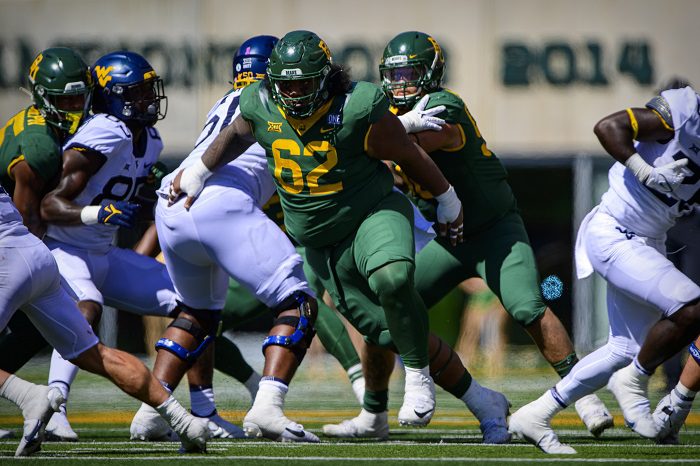 Here is everything you need to know about the upcoming matchup between the Baylor Bears and the Albany Great Danes with our preview and prediction.
GAME INFO
Saturday, September 3, 2022; 6 p.m. CT; McLane Stadium; Waco, Texas
TV: ESPN+/Big 12 Now (Broadcast Crew TBA)
Radio: Baylor: KRZI (flagship) 1660 AM, 92.3 FM; Albany: ESPN 104.5 FM
Records: Baylor, 0-0; Albany, 0-0.
Rankings: Baylor: No. 10 (Associated Press FBS Top 25); Albany: Not ranked (FCS).
Series History: First ever matchup
Last Meeting: N/A
Favorite: No line for FBS vs. FCS opponents.
Fun Fact: Albany has faced an FBS team every season (excluding the COVID-19 shortened 2020 season) since 2015 and has won once — against Buffalo in 2016. The Great Danes have never played a ranked FBS team.
KEY PLAYERS
BAYLOR BEARS
QB Blake Shapen
Shapen stepped up for the Bears in the Big 12 Championship Game when Gerry Bohanon couldn't play due to injury. The Bears beat Oklahoma State, 21-16. Then, this spring, coach Dave Aranda let the pair duke it out, and Aranda decided in April that Shapen would be the starter because he proved to be the better passer. Bohanon is now the starter USF. If the Bears are going to repeat, Shapen must validate Aranda's faith him.
NT Siaki Ika
You can't get around this guy. Actually, that's almost literal. Ika is 358 pounds and plugs the middle of the Baylor defense in a way that only a dam can relate to. He's a reason why Baylor was No. 2 in the Big 12 in run defense and No. 17 in the country, giving up 118.4 yards per game in 2021. He's part of a packed and experienced defensive front that should perform similarly in 2022.
ALBANY GREAT DANES
LB Jackson Ambush
The appropriately-named defender led the Great Danes with 97 tackles last season, which was fifth in the Colonial Athletic Association (8.82 per game). He recorded double-figure tackles in six of his 11 games played. He finished the season with five tackles for loss, four quarterback hits, a forced fumble, and a fumble recovery.
DL Anthony Lang
Lang played in all 11 games last season for the Great Danes, recording 21 solo tackles and 21 assisted tackles. He recorded nine tackles for loss for 27 yards and registered 1 1/2 sacks. He finished with four quarterback hits and two pass break ups. If the Great Danes are going to get better up front, it will start with Lang.
KEY STORYLINES
BAYLOR BEARS
Expectations at Baylor have never been higher, coming off a 12-2 season in which it beat Oklahoma State in the Big 12 Championship Game and beat Ole Miss in the Sugar Bowl. These expectations come in spite of significant turnover in the starting lineup from a year ago. Shapen has at least seen game action. But the cogs to the Bears' productive running game are mostly gone, along with dynamic defenders line linebacker Terrel Bernard and safety Jalen Pitre. Still, the league's coaches picked the Bears as the preseason favorites. It's time to see if head coach Dave Aranda's recruiting and player development effort start paying off in Year 3 and keep the Bears in consistent contention for the Big 12 title.
ALBANY GREAT DANES
Albany is coming off a 2-9 season in 2021. The Great Danes play in one of the tougher conferences in FCS, the CAA. The Great Danes were picked by the coaches to finish 12th in the league's preseason poll. It's a long hill to climb and playing a team like Baylor means two things — a big paycheck and big potential for injuries. The Great Danes want to cash the check, avoid injuries and get back to Albany.
PREDICTION: Baylor 63, Albany 10
I've been to a few of Baylor's 'Happy Meal' games in the past. The opponent gets little mercy. The Bears will rack up the points and they'll rack them up quick. Expect the backups to get plenty of second-half playing time.