featured
Big 12 Football Mailbag: Best Big 12 Matchups, Bringing Nebraska Home, Favorite Big 12 Beverage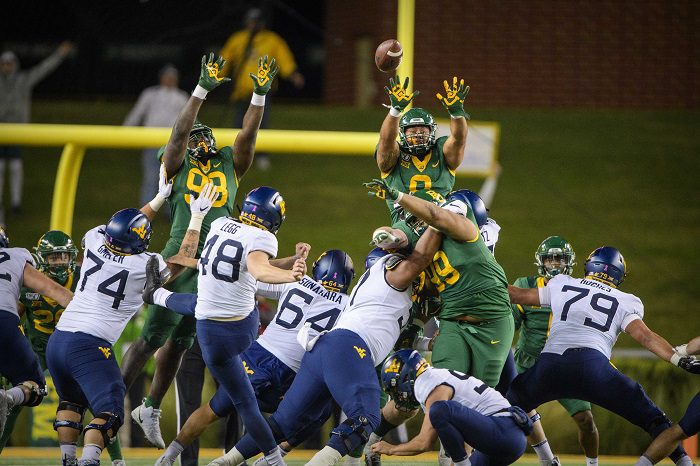 Welcome to the HCS Big 12 mailbag. This mailbag is for all you football junkies out there who root for a Big 12 school who not only have questions about your team but other teams in the conference as well. So, join me, grab a cold brew or your favorite drink and relax as I answer all your Big 12 questions in my mailbag.
I want to thank each one of you who submitted a question this week and for tonight's drink of choice? An ice-cold PBR, cheers!
@WvuDuke asks: Will West Virginia finally get a conference night game with Baylor since both will be undefeated?
Duke: It's always nice to meet another Duke and as for your question, are you saying West Virginia doesn't get enough night games? They had three Big 12-night games last season including one on ABC against Oklahoma. Now, will both teams be undefeated when they meet in Morgantown on October 13th? I don't think so. Baylor has two tough road games in Provo and Ames before taking on Oklahoma State at home. The Bears could win all three, but I wouldn't be shocked to see them trip up on the road against BYU. As for your Mountaineers, they have a tough slate before their matchup against Baylor. They will play Pitt, Virginia Tech, Kansas, Towson, and Texas. I would say West Virginia and Baylor each have one loss when they meet up.
@DBSportsYT asks: Which Big 12 Matchups are you most looking forward to this week?
Duke: I love college football to death, but I will admit that this first weekend in the Big 12 isn't the most exciting as far as matchups go. There are two games this week that are above and beyond all of the others. The first one is the Backyard Brawl between West Virginia and Pitt. The other one would be the TCU/Colorado game. Outside of those two games, you can make an argument for several games. Texas hosting UL Monroe will be interesting so we can finally see Quinn Ewers in action so that would be my third favorite game of the weekend.
@CMack0507 asks: Which one of your staff members recommended that the Big 12 welcome back Nebraska? This person is hopefully hiding in shame after that first game. Welcoming back the Huskers will only bring ridicule upon the conference at a time when the Big 12 needs all the credibility can get!
Duke: I believe that was our owner Pete Mundo who wrote an article about that. And yes, Nebraska has been repeatedly kicked in the groin year after year. The Scott Frost era in Lincoln has been a complete joke and he is not the right man for the job no matter how badly the sea red wants him to be. As for inviting them back, why not? They are a program with a lot of tradition and passion. Their fans show up no matter how bad they are. Nebraska is a national brand despite not winning anything for years. I mean, what has Texas won over the last ten years? Sure, Nebraska may not be a household name anymore like Texas, but they still can be a good moneymaker for the Big 12 if the opportunity came around.
@Shroudedllama asks: How nervous should I be of a repeat of the last time my Cowboys played Central Michigan? Also, I picked up some of that OSU beer. Want me to mail you some?
Duke: You shouldn't worry too much Dave. I know Mike Gundy understands how important it is to take care of business this time around. I honestly didn't realize former Florida coach Jim McElwain has been there for three years now. The Chippewas lose a good chunk of their offensive line from last season which means that Oklahoma State's defensive line should have a field day up front. The Cowboys should also be able to establish a running game because Central Michigan shouldn't be much of a threat defensively outside of their secondary. As for the beer, hell yes! Send it my way and I can review it right here.
@tracks182 asks: Which drink would you seek out again and which would you never do again from your conference beverage tour?
Duke: In case anyone missed it, I tried the most popular drinks from each Big 12 fan base last weekend and wrote an article about it. If I had to pick my favorite, it would be the Chimy's Margarita (Texas Tech). I live in South Texas so a margarita is a must down here. As for my least favorite, it probably was the Nancy (Kansas State). It's a combination of beer and pineapple juice and for whatever reason just didn't sit right with me.