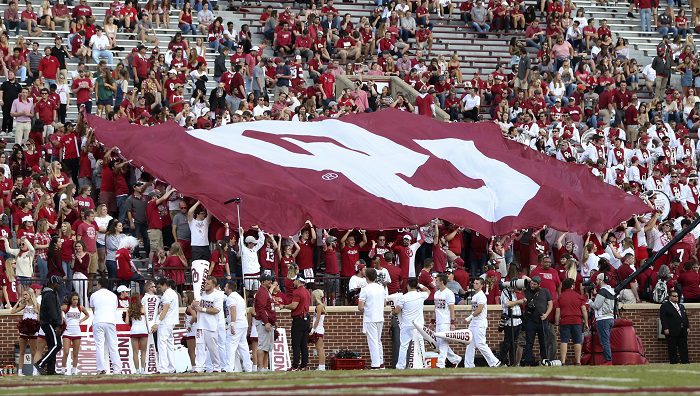 Oklahoma's 2023 class has been a talking point in recruiting circles for the last couple of months as the Sooners have surged towards the top of the national recruiting rankings.
As things currently sit, the Sooners own the No. 5 class in the nation, but it appears that they might be close to jumping into the Top 3 after the latest round of crystal ball predictions.
On Wednesday morning, several Crystal Ball predictions were updated on 247Sports for 2023 five-star defensive lineman David Hicks. His predicted destination? Norman, Oklahoma. The No. 8 overall player and No. 1 overall defensive lineman in the 2023 class is trending heavily towards the Sooners, and that is a big deal.
Even the Recruiting Guru himself, Steve Wiltfong, put in a crystal ball for Hicks to Norman, and being "Fong'd" in recruiting is about as surefire as it gets with his accuracy in the 2023 class sitting at 97.32%
Any guesses as to when the last time Oklahoma signed a five-star defensive linemen? You would have to go all the way back to 2009 when OU signed Jamarkus McFarland out of Lufkin, Texas. Right now, it appears that they might be on the verge of signing not one, but two five-star defensive linemen, with Hicks trending and EDGE PJ Adebawore already committed to the Sooners.
If Oklahoma ends up landing Hicks, the Sooners would climb all the way to No. 2 in the 2023 recruiting rankings, just behind the Alabama Crimson Tide. This class has the potential to be No. 1 overall with Oklahoma still in the mix for five-star safety Peyton Bowen, four-star EDGE Tausili Akana, four-star athlete Malachi Coleman, and four-star safety Ryan Yaites among others, but there is still a long way to go in each of those recruitments.
Either way, what Oklahoma is doing on the recruiting trail in Brent Venables' first year is unprecedented, and the buzz in Norman is starting to become a roar of excitement.