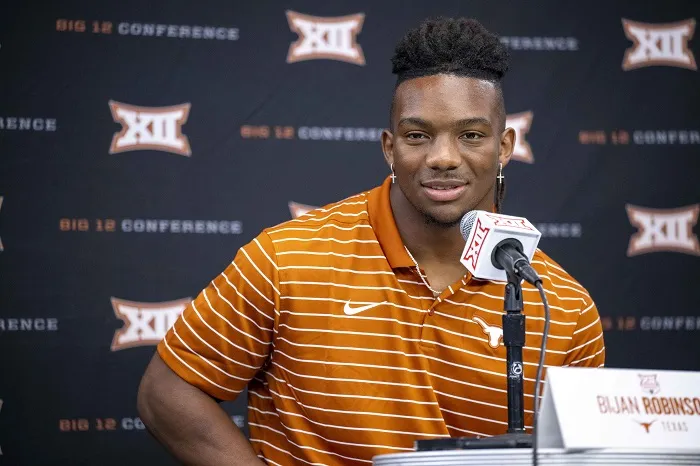 Of all the sporting events in the college athletics calendar, there are arguably few that drum up quite the same level of excitement as the Big 12 Conference does. While college football is always a fan favorite, in our unbiased opinion, the Big 12 Conference has something special even when compared to the other college football franchises.
A lot of this is due to the sheer level of talent we see displayed during the Big 12 games each year. As testament to this, many of the sporting talents on display during the Big 12 will go on to sign lucrative player deals with the major professional teams directly off the back of their performances in Big 12 games.
For this reason, Big 12 Conference games are an important event for sports betting fans to watch in the run up to the NFL draft later on in the year. For those of you looking to lock in those early NFL draft wagers, Time2play ranks online betting sites which will make your decisions a little bit easier!
Looking ahead to the start of the Big 12 Conference in 2022, however, who are the brightest players that look set to dominate this season? With this question in mind, let's look at the best players to keep an eye on this Big 12 season! 
Bijan Robinson (Texas Longhorns)
Although he is still only 20 years old, there are few players that have the same level of star power as Bijan Robinson does.
The Texas Longhorns running back started turning heads last year where he rushed a total of 1,127 yards and scored 11 touchdowns. If he had not suffered an injury that led to him being side-lined for the rest of the season, who knows how much this record would have grown by!
In his best performance of the — ultimately short lived — 2021 season, Robinson averaged over six yards per carry and hit a season high 216 rushing yards in a dominant win against longstanding rivals Texas Christian University (TCU). It is these sorts of performances that have so many fans paying close attention to him!
Deuce Vaughn (Kansas State)
Another running back to watch in the 2022 Big 12 season is Kansas State star Deuce Vaughn.
Despite looking markedly diminutive when put next to the likes of Bijan Robinson — with Vaughn weighing only 176 pounds at around 5 feet 6 inches — Vaughn's athletic prowess on the field is undeniable.
Vaughn really is an all-rounder. In addition to his physical talents, on the field he is a dynamic playmaker with a fluid and intuitive playing style. This has helped him to earn second-team All-Big 12 honors for the last two years, in addition to All-American honors in 2021.
In his freshman year, Vaughan managed to crack 1,000 total yards of offensive gain, which rose to 1,404 yards in 2021. This was in addition to 18 touchdowns.
To close out the 2021 season, Vaughan put in a virtuoso performance against Louisiana State University (LSU), which led to him racking up four touchdowns.
It is these sorts of achievements and performances that have online sports betting fans so excited about his prospects in the future NFL draft!
Xavier Worthy (Texas Longhorns)
Another Texas Longhorns player that has caught the attention of eagle-eyed Big 12 player watchers, is Xavier Worthy.
Despite only having one season under his belt, Big 12 fans are already hailing Worthy as one of the key players to watch in upcoming seasons and beyond.
In his opening season in 2021, Worthy led the Big 12 Conference with 1,081 yards and 15 touchdowns. This helped him to secure first-team All-Big 12 honors, Big 12 Offensive Freshman of the Year and True Freshman All-American accolades — not bad for a rookie!
Now, with a full year of training and playing experience acquired, expectations are even higher for Xavier Worthy coming into the 2022 college football season. This year has also given Worthy the opportunity to adjust to coach Steve Sarkisian's playing styles and strategies, which will undoubtedly boost his performance in the coming year.
There are also other players coming through the Longhorns pipeline that will help Worthy to execute plays on the field. This includes Quinn Ewers, who is one of Sarkisian's most important upcoming talents.
For these reasons, Xavier Worthy is one of the best rookies to watch in the upcoming Big 12 college football season!