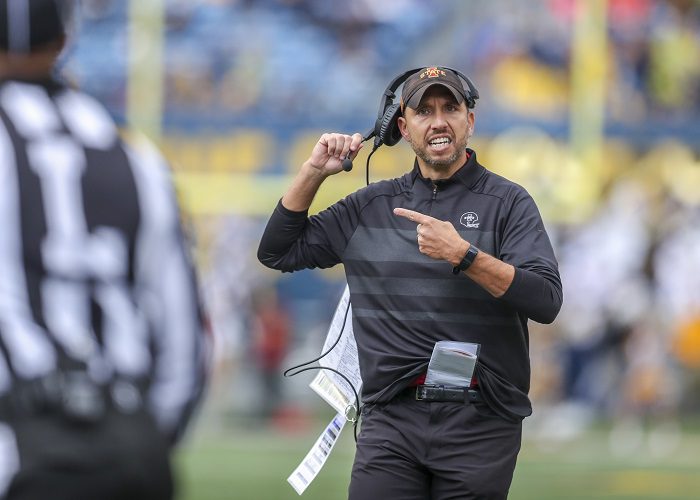 They say history always repeats itself. That means things that have happened in the past will happen again in one way or another. Whether it is the economy, weather, or a global crisis, history has its way of coming back to life.
For Matt Campbell at Iowa State, they need to shake off some recent history. Ever since Campbell took over in Ames back in 2016, their opening games have been a wild roller coaster of emotions.
In his first game as head coach, Iowa State lost to Northern Iowa 25-20. Now that may seem like a shocker to some but back then, it was not particularly surprising considering the shape of the program.
Two years later in 2018, Iowa State's first game against South Dakota State was canceled and their season started with a disappointing 13-3 loss against in-state rival Iowa.
The next year wasn't any better in 2019 as it took three overtimes to knock off Northern Iowa at home. Then 2020 happened where all logic went out the window. That season the Cyclones were embarrassed by Louisiana in a stunning 31-14 loss on national television.
Despite that 2020 team making a Big 12 title game appearance and a Fiesta Bowl win, last year's 2021 team was supposed to be one of the best in school history. Yet once again, they had another slow start as they barely escaped Northern Iowa with a 16-10 win at home.
Every single season outside of 2017, Iowa State has had a problem in opening games. These early struggles have seemed to carry over into the following week as well as Matt Campbell has yet to beat Iowa.
Unlike last year, this team doesn't have a ton of outside pressure. The 2021 team was talked about as potentially being the best team in Iowa State history. They had all the pieces in place but simply did not get the job done. With so many new faces in key areas, the pressure isn't there like it was a year ago.
This year's team has a good mix of veterans and newcomers. We know what Jon Heacock will do with that defense, but the focus will be on the offense. The good news is that most of the offensive line returns, and quarterback Hunter Dekkers will have two solid weapons in the passing game with Jaylin Noel and Xavier Hutchinson. While Hunter Dekkers will have his work cut out for him replacing the best quarterback in school history, he possesses plenty of upside. He is a great athlete and has a huge arm.
However, there will be growing pains when it comes to new quarterbacks. Hunter got some reps last season, but this will be his first game as a starter. Plus, there is no Breece Hall in the backfield to take the pressure off either. If Hunter makes a mistake or two, so be it. As long as he can bounce back and learn from it that is all that matters. That and of course winning the game. Southeast Missouri State should not be a team who hangs around for four quarters. By no means am I expecting Iowa State to win by sixty, but this is a game where they should handle their business and build some confidence before making the trip to Iowa City next weekend.