featured
Oklahoma, Texas Could Leave For SEC Early Amid Big 12 Media Rights Negotiations: Report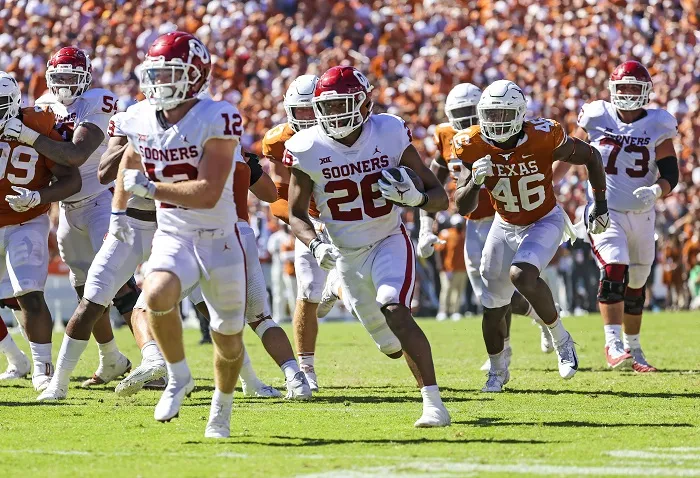 It was reported on Wednesday that the Big 12 had opened up negotiations with television partners FOX and ESPN early in order to work towards their new media rights deal, which is due for renewal in 2025.
"It is an exciting time for college athletics and given the changing landscape we welcome the opportunity to engage with our partners to determine if an early extension is in the best interest of all parties," said Big 12 commissioner Brett Yormark.  "The Big 12 has enjoyed a fantastic relationship with its multi-media rights holders, and I look forward to having these conversations."
With conversations picking up in the coming weeks, the Big 12 has firmly grasped the upper hand in an arms' race with the Pac-12, whose media rights were up for renewal in 2024. An early media rights extension by the Big 12 could further diminish the value of the Pac-12, forcing the hand of its member universities to look elsewhere for financial gain moving forward.
According to CBS Sports' Dennis Dodd, there could be even more ramifications from these early discussions, such as an early exit to the SEC for Oklahoma and Texas.
"It's definitely a piece of this puzzle, this OU-Texas separation," a source told Dodd. "Those conversations are definitely happening and are making accessible progress."
If the Sooners and Longhorns decide to leave the Big 12 earlier than 2025, there would be early-exit penalties for each of the universities, not to mention that the loss of both schools significantly decreases the value of the conference and therefore the media rights deal that they currently have with FOX.
Obviously, there would be extensive negotiations between the two universities and their current league to find an exit strategy that benefits both parties, but this news could be the start of just that.
Up until now, both Oklahoma and Texas have remained committed to the Big 12 until 2025, with both athletic directors coming out and confirming that the plan is to stick around through the current grant of rights. Will that remain the case, or will things change once again?