Baylor Bears
Oklahoma, Texas Lead Odds to Win Big 12 Football Title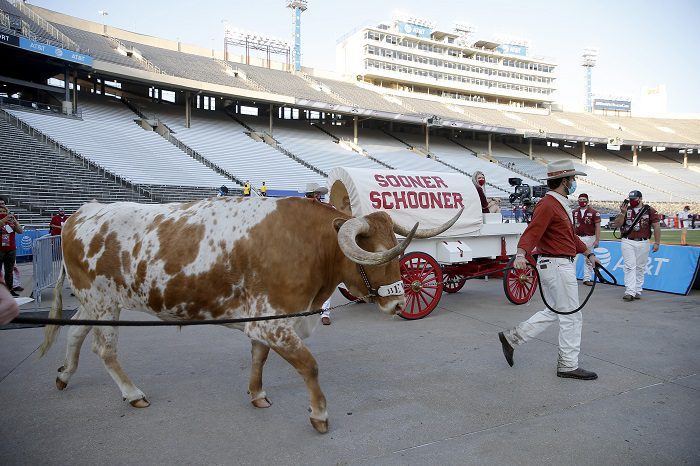 The 2022 football season is set to get underway this week as every team in the Big 12 prepares to take on their first opponent over the next several days.
West Virginia and Oklahoma State will kick off the festivities on Thursday night, while TCU and Kansas will both play on Friday, leaving Iowa State, Oklahoma, Baylor, Kansas State, Texas Tech, and Texas to play on Saturday.
Right now, everyone's record reflects a beautiful 0-0, meaning that everyone has a clean slate and the same amount of chances to reach the Big 12 Championship Game in December. However, the fact that they all get the same amount of chances doesn't mean that they all have same odds.
No, the updated odds from BetOnline has Oklahoma (+220) and Texas (+275) as the favorites to win the conference in 2022. Next on the list is Oklahoma State, who sits at +550 to win the Big 12, followed by the reigning Big 12 Champion Baylor Bears (+600).
Kansas State comes in fifth in the odds at +800, with TCU coming in jus behind them at +1000. From there the odds take quite a dip with West Virginia (+1800), Iowa State (+2000), and Texas Tech (+5000) before really falling off to long odds with Kansas (+25000).
Here's a look at the odds table, courtesy of BetOnline.
| | | |
| --- | --- | --- |
| Team | Odds (American) | Odds (Fractional) |
| Oklahoma | +220 | 11/5 |
| Texas | +275 | 11/4 |
| Oklahoma State | +550 | 11/2 |
| Baylor | +600 | 6/1 |
| Kansas State | +800 | 8/1 |
| TCU | +1000 | 10/1 |
| West Virginia | +1800 | 18/1 |
| Iowa State | +2000 | 20/1 |
| Texas Tech | +5000 | 50/1 |
| Kansas | +25000 | 250/1 |