Big 12 News
Kansas Gives Lance Leipold One-Year Extension Through 2027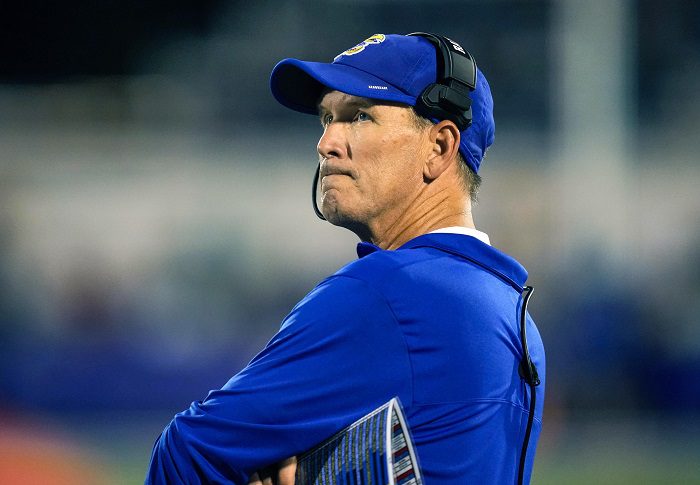 Entering his second season at the helm in Lawrence, Kansas head coach Lance Leipold has a created a buzz that Jayhawk fans haven't felt in years.
For the first time in more than a decade, there is real, sustainable hope at KU and it's because of what Leipold has built, both via the portal and instilling a new culture at Kansas.
For that, Kansas administration has shown a vote of confidence in their head football coach by extending his contract by one season, locking him in with the school until 2027, according to ESPN's Pete Thamel.
Leipold was hired in April of 2021 and inherited what was one of the country's worst football programs. Before he arrived Kansas had gone winless in 2020 and was dealing with a scandal surrounding former head coach Les Miles. Now, after a 2-10 season in 2021, that included a massive upset over Texas in Austin, the Jayhawks look to be rising out of the ashes they have been in for the last 13 years.
With Leipold in charge, Kansas seems to be a much tougher out on a week to week basis and certainly will be more competitive than they have in year's past. As things stand right now, Kansas is favored to win its season opener, albeit vs. Tennessee Tech, by more than 30 points.
While insignificant is the eyes of fans of programs that have had sustained success over the last decade, Kansas placing faith in Leipold is a refreshing headline and one that we are certainly glad to share with Big 12 fans.