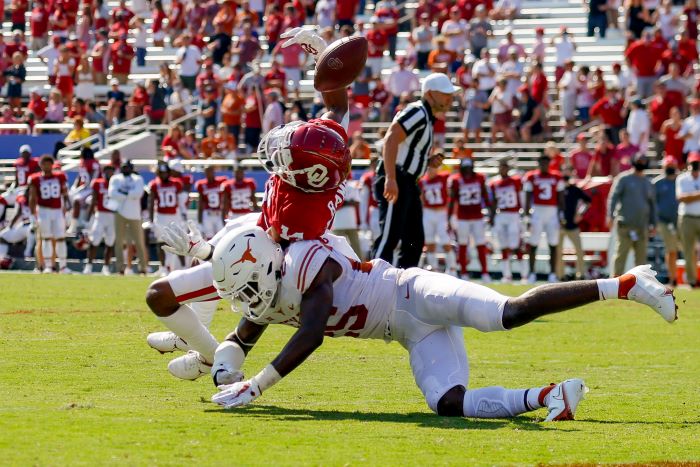 With the 2022 college football season upon us, its time to start getting down to the numbers on College Football Playoff odds with BetOnline.
While there isn't a runaway favorite to win the Big 12, or to make the College Football Playoff from the conference, there are a couple of teams from the Big 12 that are towards the top of the odds board.
There are no surprises in the top four of the odds, as Alabama (2/1), Ohio State (7/2), Georgia (5/1), and Clemson (11/1) are all perennial attendees to the CFP. After that things get a bit weird.
Lincoln Riley and the USC Trojans come in with the fifth best odds to win the College Football Playoff at 22/1. The Trojans look like a contender right away in the Pac-12, but a national title contender? That's a stretch.
Right behind the Trojans is the first team from the Big 12, the Oklahoma Sooners. At 25/1, the Sooners are the favorites from the Big 12, but are still probably a year or two out from being a real title contender.
At 33/1 and just behind Oklahoma and Texas A&M, are the Texas Longhorns, who might have the highest ceiling of any team that missed a bowl last season. With Quinn Ewers and Bijan Robinson in the backfield, Texas could have one of the most potent offenses in America in 2022, but the defense will be what needs to make wholesale changes from last season.
You have to go way down the list to find the next Big 12 team, which is the Baylor Bears at 150/1 odds. That seems like awfully long odds for a team that was selected as the favorite to win the Big 12 by media this summer. Also at 150/1 odds are Mike Gundy and the Oklahoma State Cowboys, who are coming off a 12-2 season in 2021.
After Baylor and Oklahoma State there is another substantial gap until the next Big 12 team, the TCU Horned Frogs, at 250/1. West Virginia (300/1), Kansas State (300/1), and Texas Tech (500/1) also made the odds board at long odds to win the national title.