Big 12 News
Bob Bowlsby Has a Sarcastic Response to College Football Playoff Expansion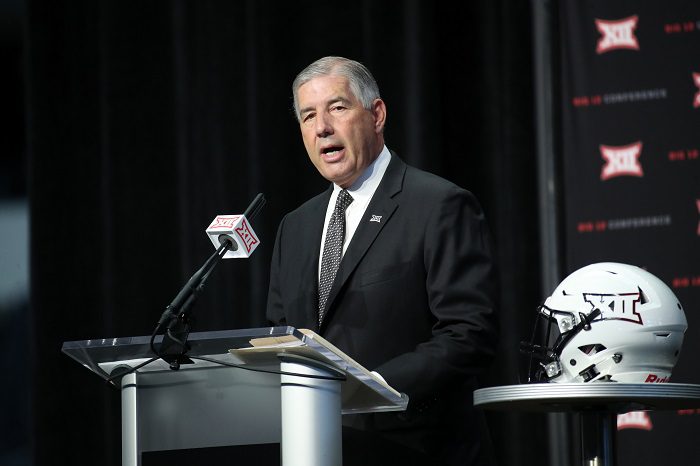 The news came down on Friday afternoon that the College Football Playoff would be expanding from four teams to 12 teams in the next few seasons.
One person who was instrumental in those conversations prior to his retirement was former Big 12 commissioner Bob Bowlsby.
SI.com's Ross Dellenger spoke to Bowlsby after the news came down Friday, and his response was simply, "Imagine that."
Dellenger asked Bowlsby to describe the year-long negotiations with the commissioners, and Bowlsby said, "I'd call it tortured."
Clearly, there is no love lost for Bob Bowlsby and the College Football Playoff committee and now that he is retired, he's making (more) of his feelings felt on how the last year has gone.
What's also interesting is Dellenger noted in his reporting that the plan that was agreed to on Friday was essentially the exact same plan that Bowlsby had helped propose with other commissioners 15 months ago.
The new College Football Playoff playoff field will consist of the six highest-ranked conference champions and the six highest-ranked at-large teams. The first round of playoff games will also be held on campus, with the 5, 6, 7, and 8 seeded teams hosting with Quarterfinal and Semifinal games held at rotating bowl sites.
If we look back to last season, and we apply this 12-team model, here's what the College Football Playoff would have looked like:
FIRST ROUND
(12) *PITTSBURGH AT (5) GEORGIA
(11) *UTAH AT (6) NOTRE DAME
(10) MICHIGAN STATE AT (7) OHIO STATE
(9) OKLAHOMA STATE AT (8) OLE MISS
QUARTERFINALS
(1) *ALABAMA VS. OLE MISS/OKLAHOMA STATE
(2) *MICHIGAN VS. OHIO STATE/MICHIGAN STATE
(3) *CINCINNATI VS. NOTRE DAME/UTAH
(4) *BAYLOR VS. GEORGIA/PITTSBURGH
* – Conference Champion