Baylor Bears
How the 2021 College Football Playoff Would Have Looked Under New 12-Team Format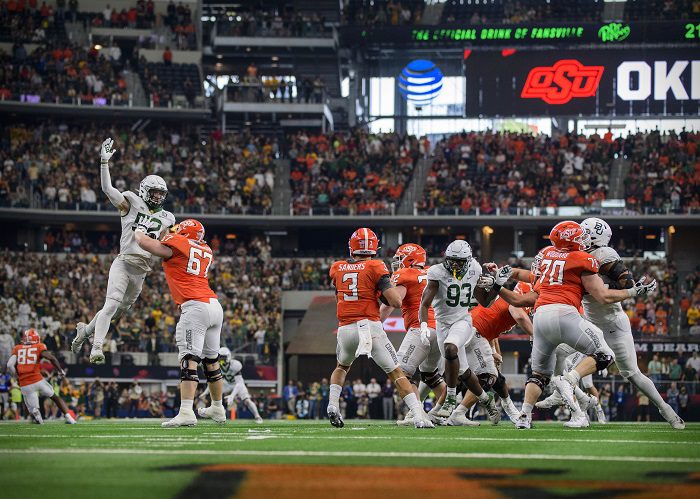 It was announced on Friday that the future of the College Football Playoff now certainly involves expansion as a 12-team playoff format will be used starting in 2026, if not earlier.
According to Brett McMurphy, the new playoff field will consist of the six highest-ranked conference champions and the six highest-ranked at-large teams. The first round of playoff games will also be held on campus, with the 5, 6, 7, and 8 seeded teams hosting with Quarterfinal and Semifinal games will be held at rotating bowl sites.
This is an extremely exciting development for the sport, as winning the Big 12 conference guarantees a team a spot in the playoff. For the 2021 season, Oklahoma State was just inches shy of ending the year as a 12-1 Big 12 Champion and potentially creating an argument between them and Cincinnati for the four spot. Now, that conversation won't have to happen, as both teams in that instance would have gotten in.
Here's how it would've looked.
First Round
(12) *Pittsburgh at (5) Georgia
(11) *Utah at (6) Notre Dame
(10) Michigan State at (7) Ohio State
(9) Oklahoma State at (8) Ole Miss
Quarterfinals
(1) *Alabama vs. Ole Miss/Oklahoma State
(2) *Michigan vs. Ohio State/Michigan State
(3) *Cincinnati vs. Notre Dame/Utah
(4) *Baylor vs. Georgia/Pittsburgh
* – Conference Champion
The eventual national champion, Georgia, would've hosted Pittsburgh, then needed to beat Baylor and Alabama to get into the National Championship game. That makes it a much tougher road for a non-conference champion to win the national title, which makes for an interesting what-if scenario.
There's no doubt that more teams will get their "shot" at a national champion, but is it manufactured excitement? Is 12-seed Pitt really situated to make a run at a national title given that they would need to go through Georgia, Baylor, and Alabama in consecutive weeks just to get to the game?
Look at the FCS Playoff model for example. A one or two-seed has won the national title in every year since 2016, and the last time a team seeded lower than fourth won the title was in 2010, when No. 5 Eastern Washington hoisted the crown.
While it is entirely possible for a team outside of the Top 4 to win it all, it's just not plausible. However, more teams will get the chance they feel they deserve; I'm just afraid it's going to leave a lot more teams disappointed.