Big 12 News
Neal Brown Frustrated with Officials After Loss to Pitt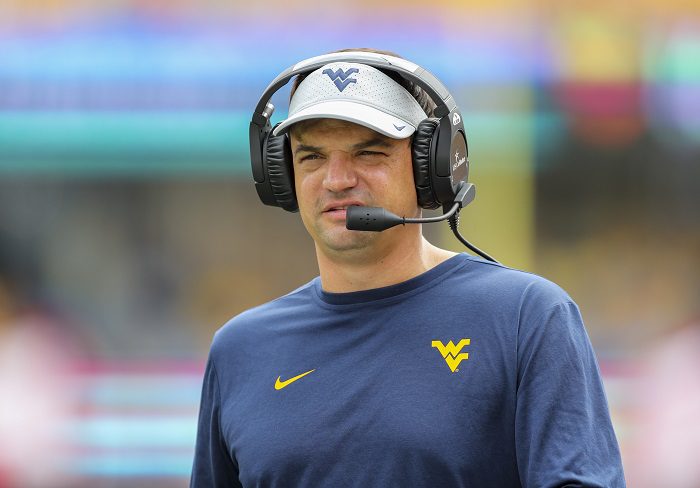 In what will surely be one of the best games we see all season, the West Virginia Mountaineers suffered a heartbreaking 38-31 loss to the Pitt Panthers in the Backyard Brawl on Thursday night.
There were several momentum swings in a wild second half for both teams, and with just over 10 minutes left in the fourth quarter, West Virginia scored on a J.T. Daniels QB sneak and took the momentum and a 31-24 lead.
After forcing a three and out, West Virginia got the ball back and started to drive, but at midfield, Neal Brown elected to punt on a 4th-and-inches situation on the Pitt 48 yard line.
From that point on, Pitt would slowly seize momentum and the victory, highlighted by a M.J. Devonshire interception that was returned 56 yards for a touchdown. On the final meaningful play of the game, J.T. Daniels seemingly connected with Reese Smith on a 4th-and-16, but after further review it was determined to be incomplete. Here's a look at the play.
That close.
After the game was over, Neal Brown clearly wanted an explanation from the officials on that call, among others, as he tried to chase them down on the field.
It was a high emotion and stressful game to be sure, but there were many factors that led to the Mountaineers loss. Brown's decision to punt, which he claims he would do again, was a pivotal point in the game, as Pitt would score 14 unanswered points directly following that decision.
During Pitt's 92-yard drive to tie the game at 31, WVU cornerback Wesley McCormick was ejected for targeting on this play.
A questionable call for sure, but he was ejected. That, combined with the "no catch" call, was enough to piss Brown off, and it continued into the postgame press conference.
"Don't ask me what targeting is," Brown said after the game, clearly agitated with officials. "Don't ask me what a catch is because I don't know."
Pitt's win was the first over West Virginia since 2008 and snapped a three-game losing streak to the Mountaineers. West Virginia will need to regroup as they are set to take on Kansas at home next Saturday.