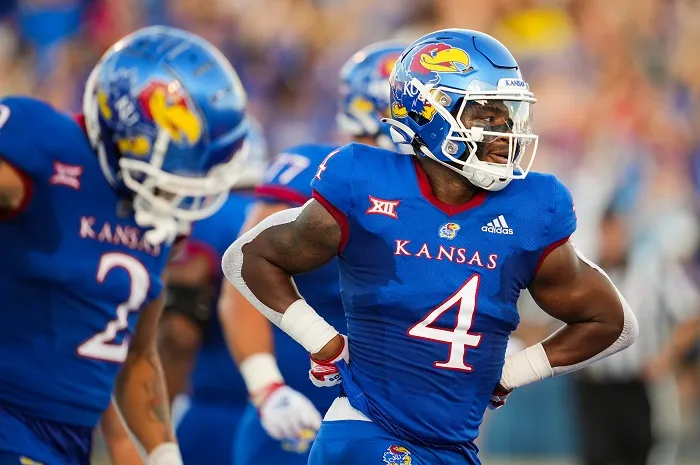 The Kansas Jayhawks kicked off the 2022 college football season on Friday night against Tennessee Tech. For KU, these past several months were the first full offseason for head coach Lance Leipold, who came into the program in the spring of 2021 under odd circumstances following the departure of Les Miles.
There has been a quiet confidence and optimism around the KU football program based on how Leipold's staff is building the program and some of their offseason additions. And they backed that up with a 56-10 victory on Friday night.
Here are three thoughts on Kansas' big win over Tennessee Tech.
1. This Defensive Front
Kansas absolutely dominated this game defensively. In the first half, KU gave up just 27 passing yards and 41 rushing yards, for just 1.8 yards per carry. Also in the first half, Kansas had three sacks, eight tackles for loss and two quarterback hits. Yes, you're reading that right, it was just the first half.
From players who have been in the program for a couple of seasons like Jereme Robinson to transfers such as Lonnie Phelps (Miami-OH), there were several contributors along the defensive line who absolutely shut down Tennessee Tech on Friday night in Lawrence.
As a team, the Jayhawks finished the game with five sacks and 12 tackles for loss, while allowing just 190 total yards, including 2.2 yards per rush. Of course, the competition will improve, but given where the program has been, these are huge strides.
2. The Running Back Depth
We knew Devin Neal was a stud-in-the-making, and he got things started on Friday night with the first touchdown of the game in impressive fashion.
Neal also had himself an 80-yard touchdown run in the third quarter to lead the team with 108 rushing yards and two touchdowns.
But it was the depth at the position that appears to be a real strength for this team and it also looks to be the preferred way for this team to win games this season. Daniel Hishaw, Sevion Morris, and QB Jalon Daniels all worked effectively into the running game. As a team, Kansas rushed for 297 yards and 30 carries, good for 9.9 yards per carry and six touchdowns.
And one of their big transfer pick ups, Ky Thomas from Minnesota, had himself a quiet night with seven carries for 15 yards. If he gets going, this could be the deepest position on the team.
3. Kansas Won't be a Pushover
The days of looking at the schedule and chalking up the Kansas game to not just a win, but likely a very easy win, are coming to an end.
I'm not predicting the Jayhawks compete for a Big 12 title any time soon, but Lance Leipold is the real deal and is building this program the right way in Lawrence. KU football will still lose more games than it wins this season, but if you're another team in the Big 12 and think you can take Kansas for granted this season, they'll beat you.
The Jayhawks have depth along the line, a talented backfield, and a quarterback in Jalon Daniels who continues to come into his own, gain confidence, and has become a better passer to go along with his wheels. And these guys will play hard for Lance Leipold and they want to hit you and be tough. That will keep them in several Big 12 games and ultimately will win them at least a couple this season.