featured
Three Thoughts on Texas' 52-10 Win Over UL Monroe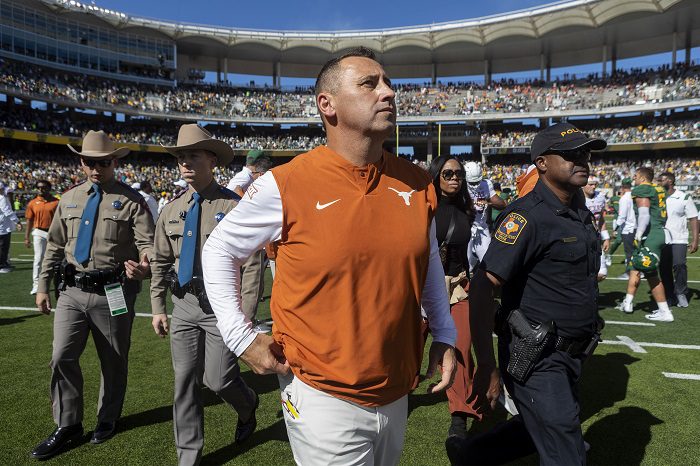 Year 2 under Steve Sarkisian got off to a good start as the Texas Longhorns took it to Louisiana-Monroe, winning by a score of 52-10 on Saturday night.
The eyes of Texas were on Quinn Ewers this evening, and while it wasn't a perfect performance, Ewers showed that he is capable of being one of the best passers that the Longhorns have seen in over a decade.
Here are three thoughts on Texas' Week 1 victory over the ULM Warhawks.
Quinn Ewers' First Game Shows Promise
In his first game as a Texas Longhorn, former five-star QB Quinn Ewers had some moments that showed why the quarterback battle lasted so long in Austin. An ugly first quarter interception was just an awful decision by the young signal-caller, but the longer he was in the game, the more comfortable he seemed to be. By the time he retired to the sidelines late in the third quarter, Ewers' had completed 16/24 for 225 yards and two touchdowns to one interception. He missed some balls downfield, but his bounce back from an early INT was promising.
Texas' Defense Was Impressive
The biggest question for Texas coming into 2022 was if there defense could make vast improvements, and if they can they might just be a Big 12 contender. Well, the early returns suggest that they heading in the right direction on that side of the ball. The Longhorns managed to hold UL Monroe to 10 points and 259 yards of offense, including just 92 yards rushing. Despite having the ball for 35:26, the Warhawks could never get much going as eight of their first 10 drives ended with a punt, while the others ended in a field goal attempt and an interception that was returned for a touchdown. UL Monroe is likely the worst offense that Texas will face all season, but dominating them in this fashion is still a positive sign after the 2021 season.
Alabama Looms Large in Week 2
Texas can enjoy its first win of the 2022 season for the time being, but when the sun rises on Sunday morning, they had better be ready to focus on next week's opponent. When Nick Saban and the top-ranked Alabama Crimson Tide roll into Austin next weekend, it will signify the biggest nonconference game that Texas has played in since 2019 when LSU came to town. Bama is fresh off of a 55-0 victory over Utah State and will certainly be the toughest test that any team in the Big 12 will face in the nonconference slate. Oh, and its the site of College Gameday for Week 2, so the eyes of the country will be on freshman quarterback Quinn Ewers and the Texas offense.