Baylor Bears
Big 12 Football Week 1: The Good, the Bad, and the Ugly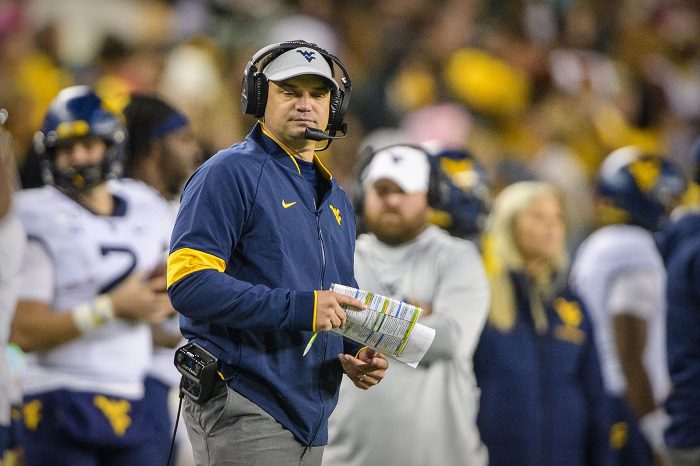 It was opening weekend in the Big 12 as the conference kicked off the 2022 season on Thursday night. From there we saw two more days of Big 12 action as the conference piled up a 9-1 record over the weekend. There was plenty of excitement with so many new faces and here is the good, bad, and ugly from Week 1 in the Big 12.
The Good
Oklahoma State (Beat Central Michigan 58-44)
One could argue that the Cowboys weren't good on Thursday night, but you know the rule. If you win, you are all good with me. Spencer Sanders may as well have been Superman in the first half of this game because he passed for 313 yards and three touchdowns in the first half and ran for two more scores. He joined Patrick Mahomes as the only players in Big 12 history with 300 passing yards, three passing touchdowns and two rushing touchdowns in a half. As good as he was in the first half, his defense had a bit of a meltdown in the second half giving up 29 points. There's still some work to be done but shoutout to Mike Gundy who won his 150th game as a head coach.
TCU (Beat Colorado 38-13)
The first half was painful to watch but TCU found some life in the second half outscoring Colorado 31-7. The ground game got going late as the Frogs racked up 275 yards rushing. The offensive line got better as the game went on, but the passing attack was a bit flat. Chandler Morris never really got comfortable and suffered an injury late in the game. Max Duggan came in and did a nice job in mop up duty. It was great to see Sonny Dykes get his first win at TCU, but I must say that Colorado is one bad football team.
Kansas (Beat Tennessee Tech 56-10)
Kansas isn't on the good list very often, but they made it on Friday night. Tennessee Tech is no football power, but it was awesome to see Kansas handle their business. I will admit Jalon Daniels didn't have his best day and the turnovers were a bit much, but overall, Kansas won a football game so I can't really complain here.
Iowa State (Beat SEMO 42-10)
This game was all about quarterback Hunter Dekkers and he certainly delivered. Dekkers was excellent on Saturday afternoon as he went 25/31 for 293 yards and four touchdowns. Hunter showed off his strong arm and really was impressive with his quick decision making. He got the ball out of his hands fast which takes a lot of pressure of his offensive line. The Cyclones were also able to run the ball effectively. And how about Xavier Hutchinson? The man caught three touchdown passes in the first half. I am also sure Cyclone fans appreciate not having to sweat this game. It's been years since they have played this well on opening weekend.
Oklahoma (Beat UTEP 45-13)
There wasn't a whole lot to takeaway here outside of Oklahoma looking like Oklahoma. I know some people aren't buying the Sooners in year one under Brent Venables, but I am. The tempo of the offense was fun to watch, and Dillon Gabriel was good as well. What I really enjoyed watching was the run game and that defense. The Sooners rushed for 259 yards with Eric Gray and Marcus Major leading the way. Defensively, UTEP couldn't run the ball against Oklahoma and the defense was able to get six sacks on the day.
Kansas State (Beat South Dakota 34-0)
We all know what Deuce Vaughn can do but everyone wants to see new quarterback Adrian Martinez in action. Unfortunately, Kansas State didn't need to throw the ball much at all in this one as they attempted just 19 passes. However, the run game was there all game long as the Wildcats nearly had 300 rushing yards. Vaughn led the way with 126 yards and a score and even wide receiver Malik Knowles had a carry that went for a 75-yard touchdown. I also must give a credit to the defense who pitched the shutout.
Baylor (Beat Albany 69-10)
I came into this game wanting to see Blake Shapen and I certainly liked what I saw. Shapen went 17/20 for 214 yards and had three total touchdowns in the first half. He was extremely accurate with the football which isn't something you see a ton with college quarterbacks. Also, I wasn't sure why the ground game wasn't there in the first half, but they found their groove in the final two quarters and ended up with almost 260 yards. I am not going to take away a lot from this game, but Baylor looked the part on Saturday night in Waco.
Texas (Beat ULM 52-10)
The Quinn Ewers era is finally here as we got to see him play in a Texas uniform for the first time. He had an early interception but was able to shake it off and move on. Ewers finished the game with 225 passing yards and two touchdowns. The run game was just ok, but I really came away impressed with tight end Ja'Tavion Sanders who had a big breakout game. Perhaps the best thing I saw on Saturday was the defense. Last season Texas awful on that side of the ball and against ULM, they looked much better. Without a doubt the MVP of this game was cornerback D'Shawn Jamison. He blocked a punt in the first quarter and then had a big pick six in the third quarter.
Texas Tech (Beat Murray State 63-10)
The good news is that Texas Tech won the game with ease. Tyler Shough, Donovan Smith, and Behren Morton all lit it up through the air as they combined for over 450 passing yards. Running back Tahj Brooks had a great game and the receiver duo of Loic Fouonji and Jerand Bradley were huge on Saturday night. However, the win may have come at a cost as starting quarterback Tyler Shough left the game after the first quarterback. You could see him putting his hand on his left shoulder a few times where he broke his collarbone a year ago. As of now we don't know the status of the injury, but it is certainly something to keep an eye on.
The Bad
West Virginia (Lost 38-31 to Pitt)
First off, I want to say how great it was to have the Backyard Brawl back. The atmosphere was electric in Pittsburgh, and I can't wait for this series to come back to Morgantown next year. With that out of the way, let's talk some of the stuff on the field. I thought JT Daniels proved to be a huge upgrade at quarterback compared to what West Virginia has had over the last three years. Even when he was under pressure, he made some great throws. However, it is hard to make good throws when he doesn't have time. The Pitt defensive line won the battle up front as they were able to pressure JT Daniels on many occasions. Also, drops continue to be a big issue in Morgantown. They have several on Thursday night including one that ended up being a pick six the other way. Outside of JT Daniels, another positive was running back CJ Donaldson. That kid is a true freshman, but he runs the ball like a grown man. Without a doubt, he is the best running back they have. In the end, West Virginia had a chance to tie the game late but just fell short.
The Ugly
Neal Brown's Decision Making
I wrote about this after the game in my three thoughts but what was Neal Brown doing in the fourth quarter? West Virginia had a fourth and one from the Pitt 48-yard line with 6:17 on the clock while being up by seven. I thought he should have been aggressive there and went for it but instead, the offense took a delay of game penalty and ended up punting when they could have iced the game.  
Then later on, the clock management was awful on West Virginia's final drive. The offense had the ball at the Pitt 22-yard line with 1:10 left to play down by a score. JT Daniels was sacked and instead of Neal Brown using one of his two timeouts, they took their time getting to the next play. In a total of 36 seconds, West Virginia only ran one play.
Yikes. Now Brown hosts Kansas this weekend, who appears much improved, and desperately needs a convincing win.