Baylor Bears
Five Biggest Takeaways From Week 1 of the Big 12 Football Season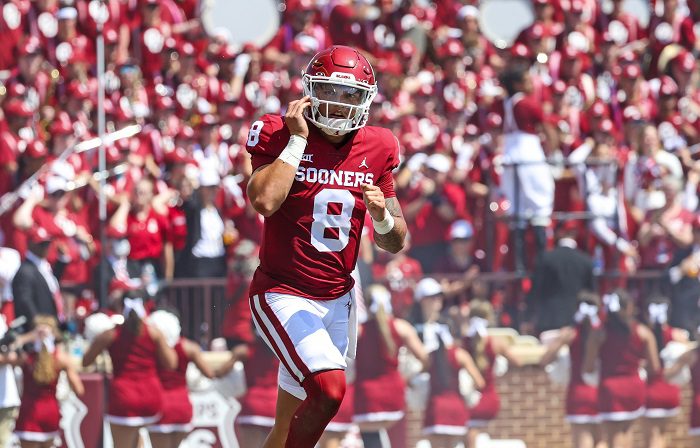 Week 1 of the 2022 Big 12 Football season is in the books and despite several blowouts against weaker competition, there are plenty of storylines to dive into across the league. The Big 12 had games on Thursday, Friday and Saturday, with all 10 teams taking the field for the first time this season.
So while there's plenty to recap after this week's action, here are my top five takeaways from Week 1 in the Big 12 Conference.
1. The New Coaches Rolled
Three new Big 12 coaches took to the sidelines this week and all three rolled to convincing wins. Sonny Dykes got off to a slow start, but TCU hammered Colorado on he road 38-13 victory. Then, it was Brent Venables and Oklahoma taking UTEP to the woodshed with a 45-13 win. And Joey McGuire wrapped up the evening as Texas Tech beat up on Murray State 63-10.
Expectations for these three coaches vary this season. TCU and Texas Tech should be shooting for bowl games, while Oklahoma is expected to at least play for a Big 12 title. But getting off to a strong start is always preferred as they get their tenures started.
2. Kansas is Not a Pushover
I'm not looking to overreact to a win over Tennessee Tech, but if you watched Kansas on Friday night, you saw a different team from anything Kansas has put on the field in over a decade, regardless of competition.
There was a toughness, confidence, depth and energy that this program hasn't shown in years. I'm not sitting here predicting Kansas is going to win the Big 12 or even go bowling, but Kansas is not going to be the team that every other Big 12 team gets to beat by multiple touchdowns each week. This team will play several opponents close and should pick off a conference game or two.
But the biggest leaps will be in how competitive Kansas is in many of their games this season.
3. Rivalries are Best for College Football
The Backyard Brawl didn't go the way West Virginia wanted it to, but the Mountaineers and Panthers renewing the rivalry for the first time in 11 years delivered huge numbers for ESPN. This should be a friendly reminder to all TV executives, commissioners and university presidents that the rivalries are what make college football the best sport.
The NFL, NBA, NHL and MLB can't compete when it comes to the history and hatred that make rivalries so great in the sport. Conference realignment has caused us to lose many great rivalries, and that's unfortunately going to continue, like with Bedlam, after OU leaves for the SEC.
However, West Virginia vs. Pitt should reinforce what we all know makes college football the outstanding product that it is.
4. The New Quarterbacks
There are several new faces at the most important position across the Big 12. From Hunter Dekkers at Iowa State to K-State's Adrian Martinez, Oklahoma's Dillon Gabriel, Texas' Quinn Ewers and West Virginia's J.T. Daniels.
They each had their moments in Week 1 and other than Daniels, who was facing the toughest opponent, led their teams to victory. In all other cases, the competition was sub par, but each quarterback gave their team a reason to believe that if things break just right they can lead their teams to exceed expectations this fall.
If I were to rank the new guys based on what I saw in Week 1:
Dillon Gabriel
J.T. Daniels
Hunter Dekkers
Quinn Ewers
Adrian Martinez
5. Conference Play Starts With a Bang
I never thought I'd say this about West Virginia vs. Kansas, but after each team's performances Week 1, there are really interesting storylines heading into this game.
As noted earlier, Kansas is much improved and won't be a pushover. Meantime, WVU also looks like an improved team who has finally found a quarterback. Neal Brown has no choice but to win this game or his bowl chances (and chances of keeping his job) are in serious peril. And for Kansas, it's a chance to prove against far better competition than last week that they're a team Big 12 teams can't just look past any more.