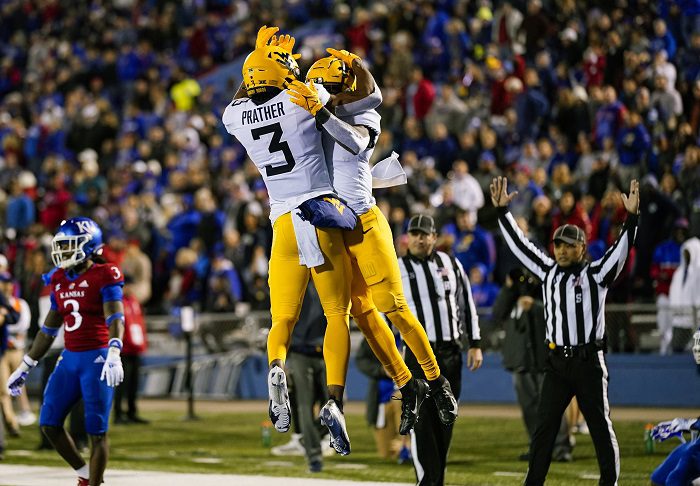 Here is everything you need to know about the upcoming Big 12 matchup between the Kansas Jayhawks and the West Virginia Mountaineers.
GAME INFO
Saturday, September 10, 2022; 5:00 p.m. CT; Milan Puskar Stadium; Morgantown, West Virginia
TV: ESPN+ (Courtney Lyle, Forrest Conoly, and Tori Petry)
Radio: Mountaineer Sports Network (Tony Caridi, Dwight Wallace, Jed Drenning); Jayhawk Sports Network (Brian Hanni, David Lawrence, Brandon McAnderson)
Records: Kansas 1-0, West Virginia 0-1
Rankings: Both teams unranked
Series History: West Virginia leads series 10-1
Last Meeting: West Virginia 34, Kansas 28 (2021)
Favorite: West Virginia (-13)
Fun Fact: Kansas has never beaten West Virginia in Morgantown. In fact, the Jayhawks have never been within two touchdowns of the Mountaineers on the road, with 2018's final of 38-22 being the closest margin of defeat. On the flips side, the last two games in Lawrence have ended with margins under a touchdown, losing 34-28 in 2021 and 29-24 in 2019.
KEY PLAYERS
Kansas Jayhawks
RB Devin Neal
Neal didn't play much on Friday, but he didn't need to for us to see that he's capable of having a great year in 2022. With only four carries on the day, Neal totaled 108 yards and two scores, adding one catch for 10 yards. He will be used early and often against West Virginia, who gave up just 76 yards rushing against a good Pitt rushing attack. Something will have to give in this game and it will either be the Kansas running game or the West Virginia run defense.
DE Lonnie Phelps
The Miami (OH) transfer was impressive in his debut as Phelps led the Jayhawks with seven tackles, six of them being solo stops. Where he really shined was in the Tennessee Tech backfield, where he recorded three sacks and four total tackles for loss. Phelps' ability to create havoc in the backfield will be pivotal in the Jayhawks' game plan against West Virginia, who allowed Pittsburgh to get after J.T. Daniels late in the Backyard Brawl.
West Virginia Mountaineers
QB J.T. Daniels
Despite the loss last week, West Virginia quarterback J.T. Daniels showed that he is capable of being the best quarterback in Morgantown since Will Grier left for the NFL. Daniels went 23-40 for 214 and two touchdowns against a good Pitt defense, and his one interception was a catchable ball for Bryce Ford-Wheaton, but it unfortunately went through his hands and into a Pitt defenders, who returned it for a game winning score. The WVU passing game looks capable of being explosive and they will surely look to attack Kansas through the air.
DE Dante Stills
For four seasons we have seen Dante Stills be a difference-maker for the Mountaineers defense, and it will be no different in 2022. Stills was one of four players to record six tackles, two of those being solos. He also added 1.5 sacks and two tackles for loss, including a forced fumble in the Backyard Brawl. Against a Kansas rushing attack, Stills will be an important piece for West Virginia and someone that will be looked to to make plays.
KEY STORYLINES
Kansas Jayhawks
Against Tennessee Tech, Kansas established the run game and rolled with it all evening to the tune of 207 yards rushing, for 9.9 yards per attempt and six touchdowns. There is no doubt that KU will try and continue that trend against the Mountaineers, and they will lean on an underrated offensive line to create space for Devin Neal and Sevion Morrison to work. The WVU front looked like a stone wall at times against Pitt, so it will be a much stiffer test for the Jayhawks this time around. However, if they can be successful in the run game it will go a long way towards them picking up a monumental road Big 12 win.
West Virginia Mountaineers
Can the West Virginia passing attack impose its will against Kansas? The Mountaineers struggled to give J.T. Daniels time to throw last week, and the Kansas pass rush looked much-improved in their first game of the year. If the West Virginia offensive line can clean some things up, they have weapons in the passing game that Kansas could struggle to hold down for 60 minutes. Bryce Ford-Wheaton, Sam James, and Kaden Prather make up a dangerous trio of receivers that can change a game at any moment, so they will be a key for Kansas in this one.
Prediction: West Virginia 34, Kansas 24
This game will prove more about Kansas than it will about West Virginia, as the Jayhawks hang around and keep this one competitive from start to finish. We already know that the Mountaineers are better than advertised, but Kansas will show that the end of last season was no fluke and that Kansas football is truly making strides at getting better. J.T. Daniels will be the difference in the game, as he will have a nice game for WVU as they get back on the winning side of things after a heartbreaker in the Backyard Brawl.