Kansas State Wildcats
Overreaction Monday: Texas Tech's QB Situation, Oklahoma State's Defense, Kansas' Improvement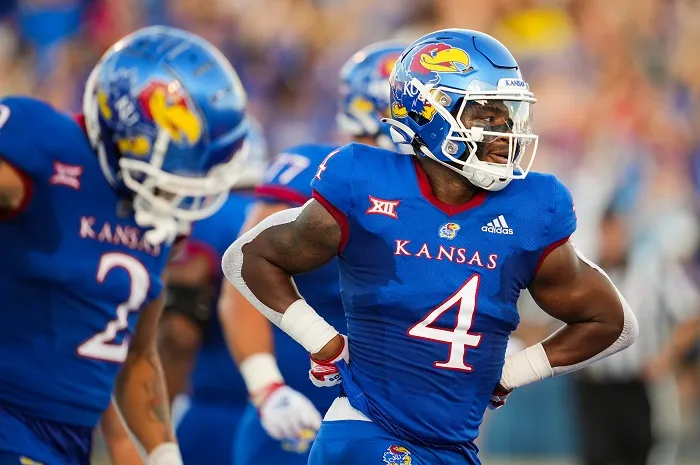 Every Monday during the college football season, fans of teams across the country return to work and discuss the events of the weekend with their coworkers. Around the watercooler or coffee machine, overreactions are born as suddenly one team is now a national title contender (they're not) and another's season is over after a tough loss (it isn't).
Allow us to sift through the rumors, false allegations, and straight-up nonsense for you this season with overreaction Monday, where we tell you whether you need to cool the jets or you legitimately have something to worry about.
Texas Tech's Season is Shot With Tyler Shough Down With Another Shoulder injury.
Overreaction. First of all, we don't know yet the severity of his injury, and while it was to the same shoulder he injured in 2021 he may not be out for the same length of time that he was last season. Initial reports say that Shough is out for at least two weeks, but it could be longer. Either way, the reason why this is an overreaction is that Donovan Smith is now the quarterback in Lubbock, and in my opinion that is a good thing. Smith was impressive in Week 1, going 14-16 for 221 yards and four passing touchdowns. We saw flashes of something special from Smith in 2021, and there aren't many athletes out there like Smith. The country fell in love with Florida's Anthony Richardson over the weekend, but Smith is in the same realm as Richardson, he just hasn't seen the same spotlight at this point.
Oklahoma State's Defense is Broken without defensive coordinator Jim Knowles in town.
Overreaction, for now. Oklahoma State gave up 546 yards and 44 points to Central Michigan last Thursday in a 58-44 victory in Stillwater. This certainly was quite the contrast from what we saw from an experienced defensive unit under Jim Knowles in 2021, but it's still a bit early to say that the Pokes will be that bad defensively in 2022. For starters, half of CMU's points came in the fourth quarter with the game well in hand and depth players all over the field for Oklahoma State. Now, once the points and yards started to hemorrhage the starting unit went back in and the bleeding never stopped, so there is reason for concern, but let's see how the Cowboys look against Arizona State this weekend before we judge the defense without proper evidence.
Oklahoma's Defense Already Looks Better than it ever did under Lincoln Riley.
Not an Overreaction. In Brent Venables' debut, Oklahoma took care of business against UTEP, winning by a score of 45-13. Just one game into a new era in Norman, it was apparent that there have been some major philosophical changes for the Sooners, and it all starts with tackling. Over the last several years, Oklahoma has been among the worst tackling teams in the Power Five, and it has shown in the box score. On Saturday, the Sooners' defense swarmed to the football and only missed one tackle that I can remember. The Miners rushing attack was nonexistent, garnering -35 yards at halftime and 29 rushing yards by day's end. OU's physicality allowed them to impose their will in this ballgame, and if they continue the trend, Oklahoma will be formidable defensively for the first time in several years.
Kansas is finally turning the corner from being a doormat in the Big 12.
Not an overreaction. I have been a Jayhawks apologist this offseason because I appreciate what Lance Leipold is doing in Lawrence. Kansas has been a glorified BYE week for other schools in the Big 12 for over a decade now, but I feel like that won't be the case anymore, starting in 2022. When KU took on Tennessee Tech last Friday, it was quickly apparent who the more talented team on the field was and while the Golden Eagles are an FCS program, it was hard to distinguish Kansas from that kind of team just a few seasons ago. Now, the Jayhawks barely broke a sweat with their opener, winning 56-10. West Virginia had better get over their blues after the Backyard Brawl quickly because this isn't the Kansas of old coming into Morgantown this week
Texas is Back.
Overreaction. Texas looked very good in its opener against UL Monroe this weekend, winning 52-10 to open up Year 2 under Steve Sarkisian with a runaway victory. Quinn Ewers showed flashes of promise, but also showed that he is still a freshman with little experience at this level. The competition steps up in a massive way this week however, as Texas will go from facing one of the worst teams in the FBS, to the best team in college football with the Alabama Crimson Tide coming to town. This is a steep test for Sark and the Longhorns, and is a measuring stick to see where UT is headed. If they can hang in this game and keep it competitive, it will be a good sign that Texas is improving, but if show up like Oregon did against Georgia, it could be a sign that the Sarkisian project isn't going so well.