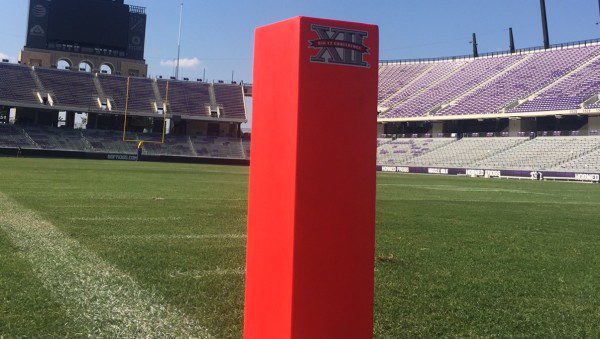 When it comes to the biggest competitions in the Big 12 Conference, most sports fans will think of football and basketball. Some might think of more niche sports within the conference like equestrianism or wrestling, which include other affiliate schools. Regardless of what college sports a fan focuses on, they're aware of the Big 12's status as one of the most driven conferences in the NCAA.
Up until 2020, not many people would link eSports with the Big 12. In the last ten years, eSports has steadily gained popularity, thanks to the rise of streaming sites like Twitch and YouTube. There are more gamers-in-training than ever before—and universities are now devoting time and resources to building out their eSports divisions with the same fervor as their other sports programs.
The move comes after great success from the major leagues in bridging eSports interests. In the US and abroad, professional sports teams and leagues have partnered with video game developers to create fan-first eSports tournaments.
For example, the UK's Premier League began diving into eSports as a marketing move to help bring on a younger generation of fans. Meanwhile, the NFL and the NBA have both found success with similar leagues, launched with EA Sports and 2K Studios, respectively. In fact, the NFL boosted its prize money for this year's Ultimate Madden Bowl to $250,000 for first place.
But the Big 12's interest in eSports isn't about marketing or the fan experience. Instead, it's about fostering competition in a safe, fair, and sportsmanlike format—just like any other NCAA sport.
2020's Inaugural eSports Season
Officially, eSports aren't part of the Big 12 Conference's list of sports. Still, with dozens of colleges pivoting to focus on eSports and attract future professional gamers, the NCAA will likely build out official regulations and competitions in the coming years. Back in 2019, Tespa, a division of Activision-Blizzard, was the primary force leading eSports growth in US colleges.
However, Tespa officially folded in December 2020, leaving a vacuum for eSports in the NCAA. And with over 130 colleges offering competition varsity eSports programs, founding new competitions was a primary focus for many schools. The Big 12 Conference took action by organizing a Madden NFL 20 eSports Competition in partnership with Learfield IMG College.
The tournament was organized in a single-elimination style, with all 10 affiliate schools responsible for hosting one of the online-only events. The season was a hit, hinting that Bob Bowlsby's Big 12 was only gearing up for its future in eSports.
OSU Builds First Big 12 eSports Arena
The Big 12 is a huge deal for football fans—but it's important to note that even the biggest day in American football, the Super Bowl, doesn't grab any more viewers as the world's top eSports tournament. The Super Bowl attracts around 100 million, along with the 'League of Legends' World Championship.
The impetus for Big 12 schools to pivot toward eSports is a solid bet for their future—and some schools are already investing big. Back in 2021, OSU opted into the eSports movement by building a brand new arena in its student union. The eSports arena includes 40 state-of-the-art computers, a Twitch streaming station, and plenty of room to host competitions. As eSports in the Big 12 grows, OSU's arena is likely to serve as a home base for larger tournaments.
Airforce Academy Launches Super Smash Bros. Tournament
The arena built by OSU will serve as a training ground for the world's top eSports video games, from first-person shooters like Call of Duty to multi-player tactical games like League of Legends. However, the Big 12 doesn't have a predetermined list of games that will be regulated like football or basketball.
Instead, some schools are still testing the waters. One of the largest Big 12 eSports tournaments was this year's Super Smash Bros. Ultimate tournament from the Air Force Academy. The six-round tournament included competitors from across the Conference before a first-place and runner-up were announced. The tournament was overseen by LevelNextGG, a Twitch account that compiles all collegiate eSports events for viewers and rookie gamers.