featured
Big 12 Football Mailbag: Hunter Dekkers' First Impression, Most Concerning Week 1 Performance, 12-Team Playoff's Effect on Big 12 Expansion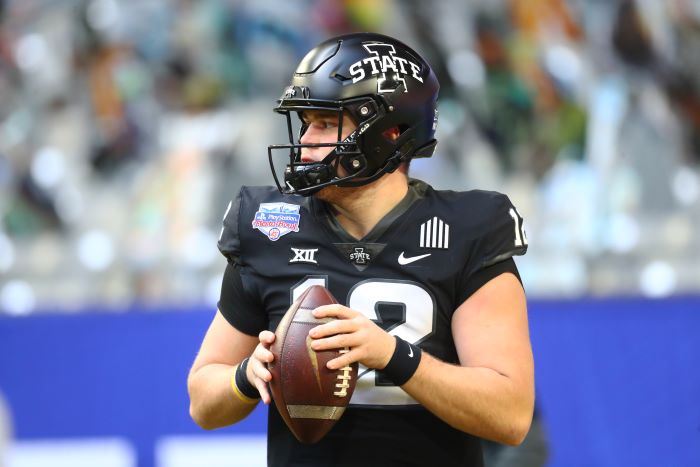 Welcome to the HCS Big 12 mailbag. This mailbag is for all you football junkies out there who root for a Big 12 school who not only have questions about your team but other teams in the conference as well. So, join me, grab a cold brew or your favorite drink and relax as I answer all your Big 12 questions in my mailbag. This week I took some questions from Twitter and Facebook for the mailbag.
I want to thank each one of you who submitted a question this week and for tonight's drink of choice? An ice-cold Shiner Light Blonde, cheers!
@tracks182 asks: Thoughts on Iowa State quarterback Hunter Dekkers after one week? His connection to Xavier Hutchinson looks pretty solid.
Duke: I know they played Southeast Missouri State, but I thought Hunter Dekkers looked really sharp in his starting debut. I heard all offseason about his big arm, and he certainly put some zip on the ball on Saturday. What really impressed me was his quick decision making and there were several throws that you couldn't put the ball in a better spot. I am sure at some point there will be some growing pains as he continues to gain that game experience, but he looked solid on Saturday, and I can see why so many people are buzzing about him.
@ted_rood asks: Is it safe to assume that Iowa State wide receiver Xavier Hutchinson should net at least three touchdowns every game, based on Iowa State's performance last weekend?
Duke: I love the confidence, Ted. I really do. Especially since it is Cy-Hawk week, but I wouldn't expect it every single game. Southeast Missouri State was more of a tune-up game before playing Iowa. Don't get me wrong, Xavier Hutchinson is one of the best wide receivers in the Big 12 but I wouldn't get your hopes up too much on him catching three touchdowns every week. Although it was extremely impressive that he was able to do that in just one half of football.
@Schmitty27 asks: All the Big 12 teams looked solid but if you had to choose, what team are most concerned about based off of week one?
Duke: That's a really tough question but I would say that for me it's a toss up between Oklahoma State and TCU. Oklahoma State had a huge lead and then the defense collapsed in the second half, but TCU had a first half that was almost unwatchable against Colorado. One could argue that Central Michigan could beat Colorado. In the first half against the Buffaloes, TCU couldn't get anything going on offense. The run game was struggling, and Chandler Morris never looked comfortable at any point and time in the first two quarters. Luckily TCU was able to pick things up after halftime, but Morris went down with an injury and will miss some time. That means Max Duggan will once again take over the starting role and I will have some concerns if Morris is going to be out for a while.
Justin on Facebook asks: Does Oklahoma State reclaim their title of best offense in the Big 12?
Duke: The Cowboys certainly made a strong case to have the best offense in the conference after putting up 44 points in the first half. Spencer Sanders looked like Superman out there as he passed for 313 yards and three touchdowns in the first half and ran for two more scores. He joined Patrick Mahomes as the only players in Big 12 history with 300 passing yards, three passing touchdowns and two rushing touchdowns in a half. That is pretty elite company to be with and if he can play like that then the rest of the Big 12 should be on notice because they will have the best offense in the conference. But if we are being honest, I have a hard time seeing him play like that every week.
Jarrod on Facebook asks: Did the recent playoff expansion throw some cold water on the Big 12's plans to expand?
Duke: I don't think it does at all. Expansion for the Big 12 was about getting stronger and making more money. You get stronger by increasing your value as a conference so if there are schools out there that can help the Big 12 get more money then they will always be interested in potentially expanding. Especially with the current Pac-12 being on a bit of shaky ground. If schools like Oregon, Washington, Colorado, Utah, and the Arizona schools are up for grabs then I know for a fact the Big 12 still has interest in bringing those kinds of schools in.
Christopher on Facebook asks: Was the tow truck driver at the Texas game a relative of the Manning's?
Duke: For those who don't know, Texas quarterback Quinn Ewers' car was towed during Saturday's game. But apparently, he wasn't parked in the right place. Texas head coach Steve Sarkisian said this on Monday: "He's got to park where he's supposed to park. He wasn't where he was supposed to be parking on gameday." Shouldn't the starting quarterback at Texas have his own valet service there in Austin? They have all that money so why can't the starting quarterback get a ride to home games in a limo? Everything is supposed to be bigger in Texas, right?