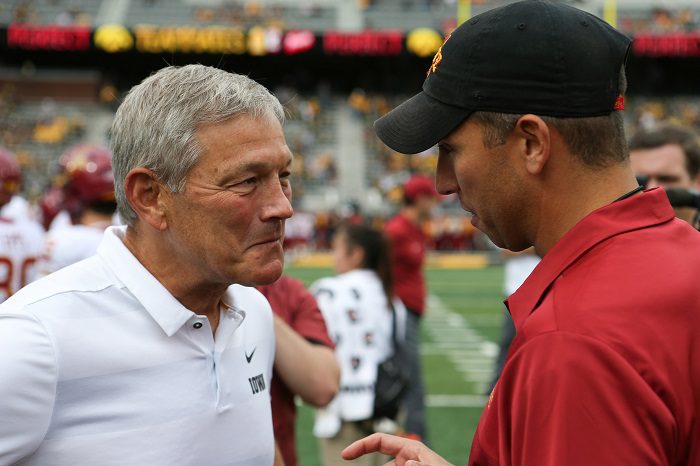 Here is everything you need to know ahead of the matchup between the Iowa Hawkeyes and Iowa State Cyclones.
GAME INFO
Saturday, September 10, 2022; 3:05 p.m. CT; Kinnick Stadium, Iowa City, Iowa
TV: Big Ten Network
Radio: Cyclone Radio Network; Hawkeye Radio Network; Sirius/XM 133 or 195
Last Meeting: Iowa Won 27-17 (2021)
Spread: Iowa -3.5
Fun Fact: The Hawkeyes have won six straight games in the Iowa Corn Cy-Hawk Series against Iowa State – the longest streak in the series since winning 15 consecutive games from 1983-97.
Key Players
Iowa State Cyclones
QB Hunter Dekkers
Welcome to the big time, Kid. Hunter Dekkers is an Iowa guy who grew up watching this rivalry. Now, he's one of the most important players in this game after watching Brock Purdy play in it last season, while also coming in in relief in that game. Dekkers replaced the benched Purdy in the fourth quarter and while playing against an Iowa defense that was playing it safe, he went 11 for 16 for 114 yards and one touchdown. Fast-forward to this season, and Dekkers looked great in Week 1, completing 25/31 passes for 293 yards, four touchdowns and one interception. Granted, that was SE Missouri State, and this is Iowa on the road, but Iowa State fans should feel as good as they can about their young QB right now.
DL Will McDonald
McDonald is one of the most explosive defensive players in the Big 12 Conference and he should be able to take advantage of and Iowa offensive line that was average at best last season and lost All-America center Tyler Linderbaum to the NFL. Iowa gave up a pair of sacks and allowed five tackles for loss last week against South Dakota State. McDonald has 22 sacks the last two seasons, the second-most nationally during that span. I like McDonald in this match up on Saturday afternoon.
Iowa Hawkeyes
QB Spencer Petras
Despite beating Iowa State last season, Petras wasn't very good in the game. Petras went 11/21 for 106 yards and one touchdown, while getting sacked four times. Last week against South Dakota State he went 11/25 with 109 yards and an interception. But Petras is home in a huge rivalry game, with 20 career starts under his belt, going up against a first-year starting QB. He has a huge edge based on that comparison alone and he can't squander it.
Punter Tory Taylor
I don't know if I've ever put a punter as one of my key players in any preview in eight years of owning Heartland College Sports. But such is Cy-Hawk. Tory Taylor had a career-high 10 punts for 479 yards against South Dakota State with seven punts pinning the Jacks inside their own 20. He had six inside the 12 and two punts pinned SD State deep in its own territory and led to both Hawkeye safeties.
And here's a great tidbit: The Hawkeyes have six wins since 2020 when punting eight or more times in a game. Eight other FBS teams have two wins when punting eight or more times. In a game where field position could play a major factor and Iowa State playing a first-year QB, this could make all the difference in the world.
Key Storylines
Iowa State
Don't make mistakes. It's easy to say, but with the way last season's Cy-Hawk game went in Ames, Iowa State doesn't want to beat itself in this one. Last season, Iowa forced four turnovers against the Cyclones and turn that into 20 of their 27 points. Brock Purdy threw three interceptions in that game. If Iowa State is going to pull off an upset against on the road, they have to do the little things right: no turnovers and limit the penalties. This team has the talent to do it, but talent isn't the reason Iowa State hasn't won this game under Matt Campbell.
Iowa
Iowa needs to forget last week's disaster against South Dakota State and get out early, control the ball on offense and try to get Petras in a groove early, ideally with their biggest offensive strength in senior tight end Sam LaPorta, who led Iowa with 670 receiving yards and 53 catches last season. Iowa State has new faces in the secondary, who are talented, but it'll be their first time on this stage and on the road. While the Cyclones have offensive explosion, they don't want to play this game from behind. If Iowa gets comfortable with a couple of long, sustained drives early, it will be all uphill from there for Iowa State.
Prediction: Iowa State 20, Iowa 17
Sure, it doesn't make sense that Matt Campbell's first Cy-Hawk win would come on the road with a first-year starter, but that's what makes rivalries fun and unpredictable. Iowa is so weak on offense, it should allow Iowa State to wear down an Iowa defense that is its strength, but also turns over much of the secondary, which may create a couple of big opportunities for Xavier Hutchinson, or, the focus by Iowa's defense on Hutchinson could make a player like Jaylin Noel become more of a household name when all is said and done. But give me the Cyclones in a close one.