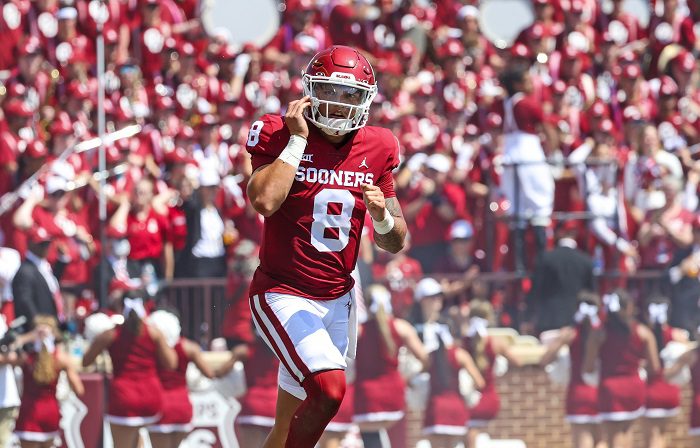 Here's everything you need to know about the upcoming matchup between the Oklahoma Sooners and the Kent State Golden Flashes.
Game Info
Saturday, September 10, 6:00 p.m. CT; Oklahoma Memorial Stadium; Norman, Oklahoma
TV: ESPN+ (Mike Morgan, Ryan Leaf, Alex Chappell)
Radio: Sooner Sports Radio (Toby Rowland, Teddy Lehman, Gabe Ikard, Chris Plank)
Records: Oklahoma (1-0); Kent State (0-1)
Rankings: Oklahoma ranked No. 7 in AP Top 25; Kent State unranked
Series History: First ever meeting
Last Meeting: N/A
Favorite: Oklahoma (-33.5)
Fun Fact: Oklahoma offensive coordinator Jeff Lebby and Kent State offensive coordinator Andrew Sowder were together on the Baylor Bears' staff in the early 2010's; Lebby an offensive quality control coach the same time that Sowder was with the program as a grad assistant.
Key Players
Oklahoma Sooners
RB Eric Gray
In Game 1 of the Brent Venables era, we saw Eric Gray finally used to his potential, and it was a sight for sore eyes for people all across Sooner nation. While his scoring opportunities fell to short yardage bulldozer Marcus Major, Gray was the back that moved Oklahoma up and down the field, turning 16 carries into 102 yards (6.4 ypc) and two receptions into 33 yards. Look for Gray to remain a key cog in the Sooners' offense, and as the offensive line continues to gel, the more room Gray will have to work with.
LB Danny Stutsman
In his first start for Oklahoma, sophomore linebacker Danny Stutsman was impressive. Stutsman co-lead in tackles for the Sooners with nine stops, six of them being solos, and also has two passes defended. If there was a play to be made on the ball, it felt like Stutsman was at or near the play, and as he settles into the new scheme that Venables has reintroduced at Oklahoma, the more plays he will make. Stutsman is an instinctive defender and has some real potential, so seeing the growth for him between games one and two is definitely exciting.
Kent State Golden Flashes
QB Collin Schlee
The junior quarterback led the Golden Flashes in both passing and rushing yards last week in a 45-20 loss to the Washington Huskies. Schlee struggled to make things happen though, going 12-24 for 178 yards and one touchdown to two interceptions. Its hard to compare where Oklahoma and Washington are defensively, but the Sooners should hope to replicate those kind of numbers on Saturday.
LB Khalib Johns
Khalib Johns, a senior linebacker for the Golden Flashes, was a do-it-all playmaker for Ken State's defense last weekend as he recorded four tackles, a sack, and two passes defended. It wasn't a good performance for the defense as a whole, but Johns was a bright spot in an otherwise dull night. Johns will be busy yet again on Saturday as the Sooners' play action and RPO game will stretch his ability and play recognition skills to the max.
Key Storylines
Oklahoma Sooners
Build depth and stay healthy: those are the two keys for Oklahoma in this game. The Sooners should win this game without much trouble if they come out prepared like they were last week against UTEP. Kent State has some playmakers, but to pretend that they can run with Oklahoma when the Sooners play to their ability is a farce. Look for OU to be cleaner procedurally and for them to button things up nicely before preparing for a road trip to Lincoln, Nebraska.
Kent State Golden Flashes
The Golden Flashes come into this game as a 33.5-point underdog, so look for them to be a motivated squad. Like the Sooners, Kent State uses tempo on offense to stress defenses into making mistakes. Expect the vertical passing game to be tested early and often from QB Collin Schee and if they find success against the Sooners there, it could be a wild evening in Norman. Tulane came into Norman last year with similar odds of winning, and they had a chance up until the last play of the game. Now, its time to find out if Oklahoma has truly changed its stripes and can now handle the games that it should.
Prediction: Oklahoma 58, Kent State 10
I expect Oklahoma to look sharper and more streamlined on offense, and more aggressive and confident on defense this week under the lights. This will be the first night game of the season for Oklahoma and the fans are expected to stripe the stadium on Saturday night. The atmosphere will be electric and I believe OU will ride that wave to a resounding victory against an overmatched Kent State squad. The Oklahoma run game will be the difference here, as they will go for over 250 yards on the ground for the second consecutive week.