featured
Big 12 Bowl Projections Entering Week Two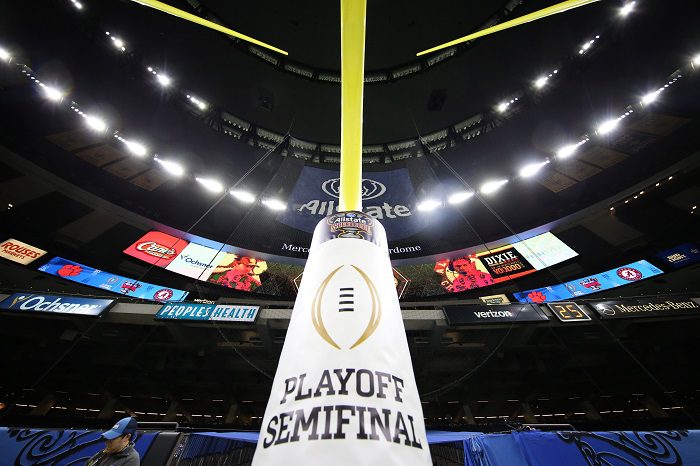 Even though we are just a week into the college football season, that doesn't mean we can't look ahead to what the future may hold. There are still plenty of important games to get through and a whole month to go but it is never too early to start thinking about the postseason.
Jerry Palm from CBS Sports recently released his latest college football bowl projections. It is always interesting to see how things change from week to week but here is what he currently has listed for the Big 12.
Peach Bowl (CFB Playoff)
Alabama vs Oklahoma
Sugar Bowl
Baylor vs Texas A&M
Alamo Bowl
Oklahoma State vs Oregon
Cheez-It Bowl
Texas vs NC State
Texas Bowl
Iowa State vs Ole Miss
Liberty Bowl
Kansas State vs South Carolina
Guaranteed Rate
West Virginia vs Purdue
As of now, Jerry has seven Big 12 teams in his projections. The three schools left out are Kansas, Texas Tech, and TCU.
What surprises me the most out of this is the fact that he has Oklahoma in the College Football Playoff. Alabama would likely be the clear favorite in the matchup, but it would be huge for Brent Venables to make the postseason in year one.
Another matchup that would be a hot ticket would be the Sugar Bowl between Baylor and Texas A&M. Two old rivals meeting up in New Orleans? Sign me up. The Alamo Bowl and Cheez-It Bowl matchups are okay, but how about the Texas Bowl? Imagine Iowa State fans and Ole Miss fans boozing it up in the Bayou City? They may want to stock the city of Houston full of beer that weekend.
The Liberty bowl matchup between Kansas State and South Carolina is intriguing but I think the big thing for me towards the bottom of the list is West Virginia. The fact that Jerry has them making a bowl game is a step in the right direction for Neal Brown, but I expect the Mountaineers to make a better bowl game as the season goes on.