Big 12 News
Big 12 Commissioner Brett Yormark on Expansion: 'Going Out West is Where I Would Like to Go'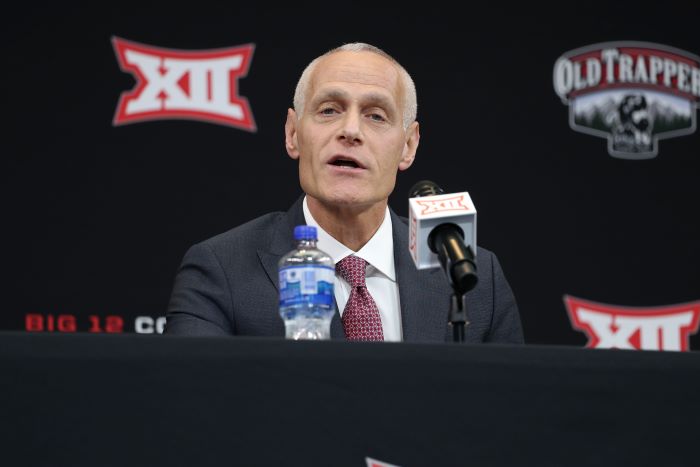 Over the last couple of months we have seen a Cold War between the Big 12 and Pac-12 break out amongst those with "sources."
The common narrative with every passing story is that the Big 12 is looking to expand west, while the Pac-12 maintains confidence that it can be competitive, from a business standpoint, with the 10 remaining programs within its membership.
There hasn't been much in the way of confidence come out of the Pac-12 since the reports of Oregon and Washington meeting with the Big 12 in the last couple of weeks, but commenting on such "rumors" would give them attention that they don't need. Right now, George Kliavkoff's conference is vulnerable, and his peers know it.
Big 12 Commissioner Brett Yormark has been "expansion-minded" since he took the job back in August, and that sentiment remains as we head into Week 2 of the 2022 college football season. According to Justin Williams of The Athletic, his focus has remained steadfast on expanding west to claim new territory for the Big 12.
"Well, I don't want to get into the specifics, and I appreciate the question," Yormark said. "But obviously going out west is where I would like to go. Entering that fourth time zone. A program that has national recognition. One that competes at the highest level in basketball and football, stands for the right things, is a good cultural fit. Because our alignment right now and the like-mindedness of all of our member institutions is fantastic. It's never been better. So I don't want to compromise that, and that's critically important that there is the right cultural fit when you think about coming in and being part of what we're building here."
It has been widely reported that the Big 12 has targeted Arizona, Arizona State, Utah, and Colorado, so is this a wink and a knod at those reports, or is Yormark hinting at his sights being set on Oregon and Washington now? We likely won't know for sometime, as this game of "hurry up and wait" continues.