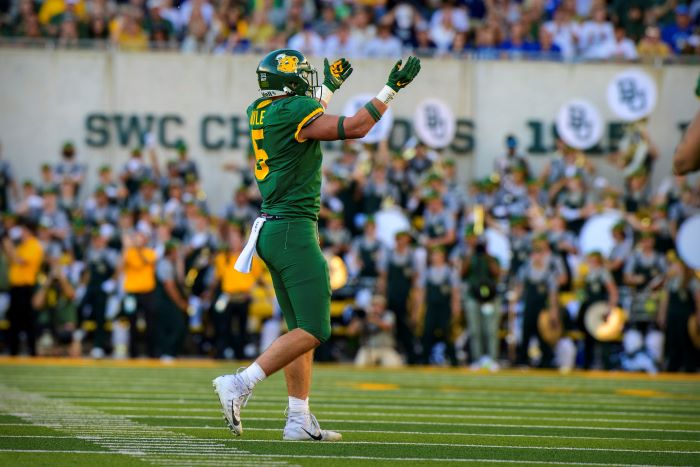 Some games are just better than others. It's a simple rule in the life of a college football fan and one that doesn't take long to figure out. Most nonconference games anymore are ho-hum, with FBS opponents taking on FCS opponents and beating their brains in by 42 points every other week.
Once conference play starts, things seem to get a little better, other than when your team plays the cellar dweller of the conference (you know who you are).
However, on every magical Saturday, there are a handful of games that are truly spectacles in their own right; games that you absolutely cannot miss out on, so you set your DVR (or your VCR I suppose) so that you can catch all the action if you must choose one over the other.
Those are the games we wake up for on Saturday.
Here are this week's Heartland College Sports' Staff Big 12 Games of the Week.
Bryan Clinton
At 9:15 p.m. CT, the Baylor Bears and BYU Cougars will begin their festivities in a preview of future Big 12 foes going at it on the gridiron. Baylor comes into the contest riding a wave of offseason momentum following a historic 2021 season. Third-year head coach Dave Aranda will take sophomore quarterback Blake Shapen into the first road start of his young career, and quite the atmosphere awaits him in Provo, Utah. After leading BU to a 69-10 victory over Albany in Week 1, Shapen will certainly face a much stiffer test in the Cougars on Saturday night. BYU returns nearly 85% of its production from a 10-3 team in 2021, including Heisman dark horse Jaren Hall. BYU is favored by three points at home, and for good reason.
This will be a difficult game for the defending Big 12 champs and it will likely look much different than the Bears' 38-24 victory last season in Waco.
Pete Mundo
I'm going to pick Kansas State vs. Missouri. Why? Because I'm a sucker for the old days, despite not being an old guy. This game will hearken back to the old Big 12, when these two teams would battle every year in the Big 12 North. Given the amount of change coming to college sports over the next 2-3 years, I will enjoy this one for what it once used to represent: a regional rivalry that united people of an area for or against each other. As a Kansas City area resident, I can tell you that people are juiced up for this game, in another reminder to the college football power brokers that regional rivalries are what make this the best sport.
Oh, and any time a Big 12 can beat an SEC team, I'm going to be promoting and pushing that as well.
Matthew Postins
Most of us are going to pick Baylor-BYU and that is certainly an intriguing game. But this one I'll be keenly focused on, too. Texas Tech rallied to win this game last year at NRG Stadium in Houston, but the game has a much different feel now. Houston has the tools to finish undefeated and make a case to crash the College Football Playoff in its final season before joining the Big 12. Texas Tech has a new head coach in Joey McGuire and a new attitude — not to mention a 'new' starting quarterback in Donovan Smith. Don't read too much into last week. Tech blew out a team it should have blown out. Houston needed three overtimes to beat UTSA, which nearly won Conference USA and was undefeated well into last season.
The last time I covered this game it was a Tech blowout (Alan Bowman — remember him — threw a bazillion touchdown passes). I had Tech 37-30 in my prediction. Don't be surprised if the score is flipped by game's end.
Derek Duke
If you are looking for an excuse to do nothing but watch college football on Saturday, then this is the weekend to do it. There are plenty of great games this weekend between Alabama/Texas and the night cap with Baylor/BYU. However, I am going to be locked in on the Cy-Hawk game.
The Iowa State/Iowa game is my favorite non-conference rivalry in the Big 12. This year the game is in Iowa City, but the Cyclones should stroll in there feeling loose. There's no need to be uptight because people aren't expecting much from Iowa State this year and that is when they are the most dangerous. I loved what I saw from Hunter Dekkers last week and I believe they have a chance to finally break the losing streak against the Hawkeyes.