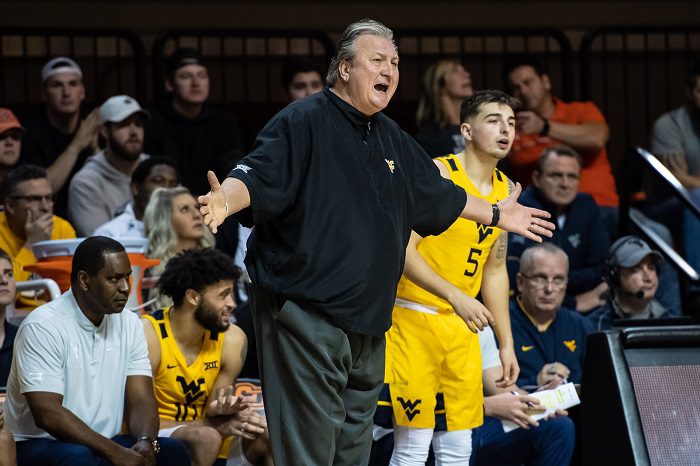 West Virginia head coach Bob Huggins faced a 'fork-in-the-road' decision after his first season as a graduate assistant with the Mountaineers in 1978.
He was a year removed from playing for WVU. He had tried out for, and failed to make, the Philadelphia 76ers roster. He enrolled at WVU in his master's program at the last minute and was making practically nothing as a graduate assistant. His future wife was working the concession stand at WVU Coliseum and would bring home hot dogs.
The future Hall-of-Famer — who will be inducted into the Naismith Memorial Hall of Fame on Saturday — enjoyed his one season working for Joedy Gardner, who coached him as a player. But it doesn't take long for opportunity to knock, and for Huggins, that took the form of dueling job offers.
After the 1977-78 season, Gardner left WVU for Northern Arizona. He wanted Huggins to go with him.
Huggins said no.
"I guess I didn't want to go that far away from home," Huggins said.
Another WVU coach left to take over at a community college in Yuma, Arizona. He wanted Huggins to follow him, too. Huggins wasn't having any of that, either.
But that also meant there was no guarantee about his future.
While Huggins was born in Morgantown, he grew up in Port Washington, Ohio, playing for his dad, Charles, at Indian Valley South High School. Every year, his father hosted a basketball camp and Bob worked the camp as a coach. Just about every Division I coach in Ohio came through that camp, in part to support Charles Huggins, but also to recruit.
That's where Bob Huggins met Eldon Miller.
Miller, a Pennsylvania native, spent worked his way up from Wittenberg to Western Michigan to Ohio State by the time Huggins was meeting his fork in the road. Miller was entering his third season with the Buckeyes. He needed an assistant coach.
Through his basketball camp connections, Huggins eventually ended up on Miller's staff in Columbus.
"The next thing I know I can't remember whether I was the non-paid coach or the very lowly paid coach," Huggins said with a chuckle.
Miller helped him get a job at a sporting goods store to supplement his income. As Miller grew to trust Huggins, his job description grew, to the point where Huggins was leading the team's scouting and participating in recruiting. He even helped get recruit his brother, Larry, to OSU.
In just two seasons, Huggins had done enough to impress the administration at Walsh College in North Canton, Ohio. The then-NAIA school made Huggins a head coach at age 27. Huggins turned the Cavaliers into winners, including a perfect 30-0 regular season in 1982-83.
Huggins has no idea what would have happened had he gone to Arizona instead of Ohio. But he knew one thing, even way back then.
"I loved being in West Virginia," Huggins said. "I loved the people in West Virginia and I and I wanted to find a way to stay here."
Ohio isn't West Virginia, but it proved to help pave the path of Huggins' return to the Mountaineers as head coach more than a decade ago.
Huggins is one of the most decorated coaches in college basketball history. Last season, he passed Bob Knight and Roy Williams on the all-time list and now has 916 career victories.
He is one of six Division I coaches to win at least 900 games, along with Duke's Mike Krzyzewski, Syracuse's Jim Boeheim, Jim Calhoun, Bob Knight and Roy Williams. Boeheim is the only other active coach with 900 or more wins.
Entering last season, Huggins was the only of the of six coaches with at least 900 career wins that wasn't in the Hall of Fame. He is signed with the Mountaineers through after the 2026-27 season.
Huggins took Cincinnati (1992) and West Virginia (2010) to the Final Four in his long coaching career, which started his career at Division III Walsh, where he won 71 games in three seasons from 1980-83. Akron hired him, and in five seasons Huggins won 97 games and took the Zips to the NCAA Tournament.
At Cincinnati, Huggins helmed the program for 17 seasons, won 399 games, and reached the NCAA Tournament 14 games. After a season out of basketball, Huggins took the job at Kansas State in 2006 and led the Wildcats to a 23-win season before the West Virginia job opened up and he took it before the 2007-08 season.
Huggins has a bachelor's degree and a master's degree from WVU. Huggins and Williams are the only two coaches to win at least 300 games at two different schools.
You can find Matthew Postins on Twitter @PostinsPostcard.